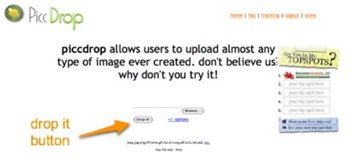 If you need a quick way to share an image, PiccDrop is a dead simple online image host. The site is perfect for sharing a few images without the need for logging in or registration.
All you need to do is select the image you want to share, hit the Drop It button and PiccDrop uploads your image and redirects to the hosted image url. You can also choose to get the html/bb code and PiccDrop uploads your image and provides the code.
There is no limit on quantity of images to upload and the maximum file size of 6mb is generous. The site is free, supports most image file formats including jpg, bmp, gif, tiff, pdf, svg, etc., and its only restriction is no adult content.
Although PiccDrop claims to host your image forever and ever, we think the site is best suited for casual sharing of one or two images at a time. There are other online image hosting sites that allow you to index your family photos and bulk upload. PiccDrop is ideally suited for when you need to share an image fast on the web.