Laser labels are made out of Pressure sensitive materials and contain an adhesive glue coated onto the facestock, which is usually a paper, plastic film or foil. The facestock is what will be printed on by using toner. This facestock is laminated to a backing. This backing is referred to as liner and is always silicon-coated paper so that the adhesive on the face stock does not bond, allowing for easy separation.
The material is in master rolls, which is then slit to a certain width and then cut into sheets. Then a die is used to cut areas of these sheets into desired label shapes. The die only cuts throught the facestock, hence allowing these "labels" to be peeled away from the backing. These materials are, in some cases, made only for printing with toner using a laser printer. When a Label is die cut onto these sheets and is peeled off, it can be applied to and will adhere to most surfaces when pressure is applied to the label. The facestock of the laser labels will relay a message, either with a graphic printed on it, just text or text and a graphic combination, all in just one color or multi-color printed.
CONTENTS
A) Why use a laser printer at home and business
B) Structure of a Laser label
B) Laser label Sizes and Shapes
D) Laser Label Uses
E) Label materials for laser Printers
F) Custom Sized Laser Printer labels
J) Designing your laser labels
– Laser label templates
– AutofillPDF-labels
– Label printing software for Windows
– For the Mac
– Label Wizard in Openoffice.org and MS Office
– Linux / Open source and laser labels
– Mail merge data to laser labels
K) Tips, problem solving, alignment issues

WHY USE A LASER PRINTER AT THE HOME OR OFFICE

Printing your own labels at the office or home can make your life so much easier especially when using a laser printer. Ready-sized labels in many different materials, sheeted and are available for all labeling needs. If your project is a mass mailing, or labels for soap bars, or even preparing labels for moving or storage to be applied on cardboard boxes, there are laser labels suitable for your needs.
In 1984 Hewlett-Packard introduced the LaserJet laser printer, featuring 300dpi resolution, for US$3,600. Quickly after that, the price dropped rapidly and soon almost every business had one. In the early 1990s, prices were so low that the consumer started buying laser printers. The convenience of printing your own labels became popular, and many label software programs were introduced. The introduction of the laser printer only helped matters. Now you can print labels with higher clarity, print much faster and really start bring down label printing cost at the home or business.
Why use a laser printer to print labels
Most models are very affordable.
Great for occasional use at home or office.
Capable of printing images with photo-quality results.
Produces vivid colors.
Usually costs less to operate on a daily basis.
Sharp text quality
Fast printing speeds

STRUCTURE OF A LASER LABEL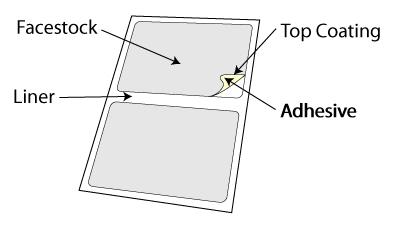 About the facestock
The face stock is the top layer of a label. The face stock is what you can see and feel on your products, mailers and containers. It can be a important factor as to which material you will require for your project. Keep a few things in mind when evaluating your needs for the proper face stock:
What surface will it be applied to and how long?
The temperature or moisture play
The environment will your label be in?
The tensile strength of the face stock
About the types of adhesives
The adhesive is the middle layer of your label which has been coated to the facestock. An adhesive forms a bond between your label and the surface you apply the label to. Simply put, it is the sticky part of your label. Adhesives are generally rated by bond strength, tack or stickiness. Labels can have a variety of adhesives for different applications. Permanent, removable and/or freezer grade. Since laser printers get hot, acrylic emulsion adhesives always are used.
Generally labels are sold with two different types of adhesives:
Permanent adhesive means once the label is applied to a surface, it cannot be removed without destroying the label. This is the most common type.
Removable adhesive means the label can be removed and in most cased repositioned without any damage to label.
The Liner
The liner is the bottom layer of your label. A liner, often seen as just a throw away item, actually plays an important role for labels. The liner enables the label to have a seamless feed through the printer. Without a quality liner you may see printing issues such as jamming and curling.
About the Coating
Top coatings are added to special materials in instances where an extra layer of protection is needed. For example, a weatherproof material has the potential to come in contact with moist surfaces and unfriendly conditions. So, a topcoat is applied to ensure the material is very durable in a variety of uses.
Perforations, peeling slits, easier to peel labels
Laser labels can come with different slits on the back (liner) and/or perforations in order to aid fast peeling and applying.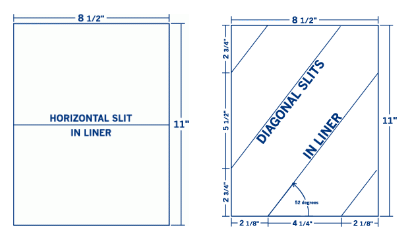 "Full sheet labels can come with different slits on back to help peeling faster"
Watch this video to learn more about Easy To Apply Mailing Labels:

LASER LABEL SIZES AND SHAPES

The most commonly shaped laser labels come with rounded corners on 8.5 x 11" (US Letter Size) sheets, a4 size (European) and a5 (ISO paper size standards). The rounded corners help prevent labels popping up while moving threw the laser printer reducing the amount of jams. Square cornered labels are also common, especially Full Sheet Labels, and half sheet label sizes used for labeling shipping cartons and is compatible with eBay, USPS and Amazon shipping software. Round labels and oval labels are useful, especially for bottle labels, jars or even used as a mail seal. CD labels where very popular at some point, but with digital music downloading, the demand for laser CD labels has been reduced. You can find more information at printing CD labels. Mini CD labels, VHS tape labels, Diskette labels are also available for laser printing.
Custom laser label sizes can be made in any dimension and shape.

MOST POPULAR SIZES
The most popular size labels which can be found in any office supply store including Staples, Office Depot and Office Max and also label companies online cross reference Avery® sized labels made by the Avery® Dennison Corp , the initial inventors of self-adhesive labels. Avery® is the market leader listed on the NYSE and introduced laser labels to the market place in the early 80s. The following are the most popular laser label sizes, and can be found in template form in all popular label software programs:
WL-875 | Address Labels (same size as Avery® 5160™)
30 labels/sheet, Size: 2.65 x 1″
Staples ® #575748 | Office Depot #612221| Office Max #07111118

WL-25 | Return Address Labels (same size as Avery® 5167™)
80 labels per sheet, Size: 1.75 x 0.5″
Staples ® #573945 | Office Depot #612191 | Office Max #20317710

WL-125 | mailing/shipping labels (same size Avery® 5163™)
10 labels per sheet, SIze: 4 x 2″
Staples ® #575752 | Office Depot #612051 | Office Max #07111127

WL-150 | shipping labels (same size as Avery® 5164™)
6 labels per sheet, size: 4 x 3.33″
Staples ® #489566 | Office Depot #612061 | Office Max #21059970

WL-175 | full sheet labels (same size as Avery® 5165™)
8.5″ x 11″ sheet, one page label
Staples ® #518346 | Office Depot #612071 | Office Max # N/A

2.5″ Circle, 12 labels per sheet

3.33″ Circle, 6 labels per sheet

WL-1200 | CD Labels (same size as Avery® 5824™)
Standard 4.5″ CD / DVD, 2 labels per sheet
Staples ® #501798 | Office Depot #161565 | Office Max #21059989

WL-400 | Half Sheet Labels | USPS, eBay, Amazon Shipping labels

WL-75 | Shipping Labels (same size Avery® 5161™)
20 labels per sheet, size: 4 x 1″
Staples ® #489561 | Office Depot #—— | Office Max #——–

WL-100 | Mailing Labels, (same size Avery® 5162™)
14 labels per sheet, size: 4 x 1.33″
Staples ® #489563 | Office Depot #612281 | Office Max #21059970

LASER LABEL USES

Labels for printing on laser printers can be used for almost any labeling requirement. The most popular application is address
and mailing labels for envelopes, then larger label sizes for shipping boxes and containers. Mom and Pop crafters making soap, candles and jams use lots of labels for jars, bottle and cans. Libraries will print labels and use then as book spine labels. Chemical manufactures will print waterproof laser labels for drum labeling. Wine bottle, beer bottle and water bottle labels for all occasions are printed with laser printers at the home or at the office. Lets not forget those CD /DVDs, video tape, diskettes which need labels, well laser labels do the trick for all of them. The uses are endless.


LABEL MATERIALS FOR LASER PRINTERS
Whether you need a matte white material with a permanent adhesive, weatherproof / Waterproof label or even a color label, there are materials you can use for laser printing. Materials for laser printing for labels usually is available in these selection of materials: fluorescent color labels, laser clear materials, laser glossy materials, 100-percent recyclable materials and much more. Gold & Silver foil with a permanent adhesive for laser printing is available, too.
For specialized labeling situations, for example high temperature, labels made with Kapton can be used. Materials with freezer grade adhesive are also available. Custom materials can be cut into laser labels for all types of special situations and harsh environments i.e. teslin, freezer grade adhesive, extra strength adhesives, kapton, tyvek and many others.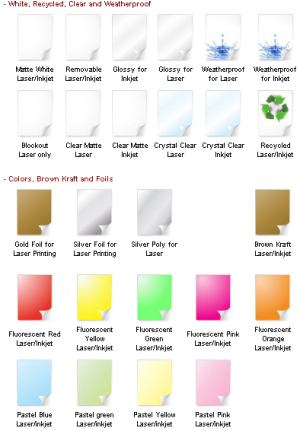 Common types of materials for laser printing
White Matte Labels are generally the most cost effective, the most popular material and can be used for most labeling applications. Great for mailing products. They come with permanent acrylic adhesive and print excellent on laser printers.
White Removable Labels for laser printers are also available. Removable laser labels has a high quality acrylic removable/repositionable adhesive with a non-ooze characteristic to assure your laser or ink jet printer won't jam. It can be applied to most surfaces and easily removed without leaving any residue.
Glossy laser labels are a great way to give your labels extra characteristics and make your product stand out in the crowded market place. If you want high quality labels glossy labels is the way to go. Glossy materials moves thought the printer effortlessly. They excellent for producing true photographic quality images on you laser printers.
Clear Laser Labels will almost completely disappear when applied to most surfaces. The are excellent to use when you don't want to hide any part of the packaging. The material is a completely transparent, made out of polyester and with a permanent adhesive. Clear labels have a top-coating which prevents smearing or smudging when printing from standard laser printers.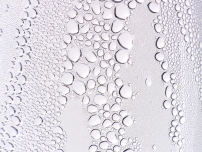 If you need a label to withstand heat, cold, water and slime and other types of harsh environments, weatherproof labels are perfect for your needs.
Weatherproof labels are manufactured with a polyester material which has at a UV inhibitor included. Polyester material is very durable with a high tensile and tear properties. Extreme heat and cold will have little effect on these labels. They won't lose their stick in a frigid climate, and the graphics won't smudge or smear if they get rained on.
The reason these labels are weatherproof lies simply in the facestock. The weatherproof labels are extremely dense, making them not only weatherproof but strong and long-lasting. In addition, the extremely strong adhesive on these labels keeps the labels stuck on, whether they're attached to high surface energy plastics and metal surfaces or getting rained on.
Weatherproof labels are typically used in a laser printer, making both black text and color graphics ideal for this material. So if your product needs a label that can withstand just about anything, give weatherproof labels a shot
Foil Laser labels are available in Gold and Silver and come with a permanent adhesive. they are excellent for special occasions and to really enhance your product packaging. The labels have a shiny reflective surface and work with most types of laser printers. Foil labels are popular for use as mailing labels and for use as higher end product labels.
TIP: Please check you printer properties setting, if there is an option for labels, glossy materials, transparent and others, please check the most appropriate materials before printing.

GETTING CUSTOM SIZED LASER LABELS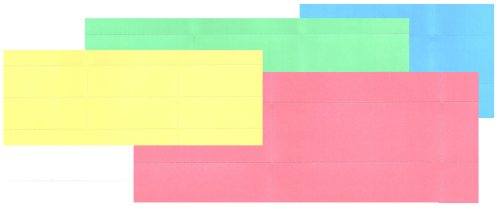 If you are not able to find the labels you're looking for in the exact size and material you need, or even with a specialty adhesive, Custom blank laser labels can easily be created in any configuration you require and for any type of application and in any material by most specialty laser label manufacturers:
Generally there is a one time Die cost for custom sized labels. The cost of this die will depend on how complicated the label shape is, and how many label cuts there will be on the sheet. Label converters usually will have a minimum quantity run and the price per 1000 sheets gets cheaper as the quantity increases.
Keep in mind — Foil, Clear and Weatherproof materials are available for custom labels in any size or shape! Clear Labels are printed on a clear film which allows your product to be seen through the label. Weatherproof, Polyester and Vinyl Labels can be used for outdoor applications. Foil Labels are printed on foil stocks in silver, gold or tinted to a specific color.
Media Labels including cassettes, video tapes and audio labels can easily be custom sized and tinted.

DESIGNING YOUR LASER LABELS | SOFTWARE, TEMPLATES & MORE…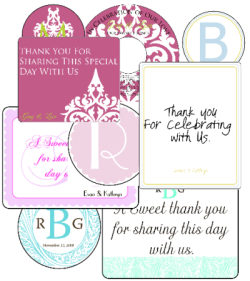 Laser label templates
Free label templates: Sometimes you just need to get your labels designed and printed quickly. Label templates are available for downloading for most sizes standard label sheet configurations. These templates are provided free of charge usually and are available in Openoffice.org label templates also , Word and PDF. Regardless of what size or type of label you are printing, templates can help you create eye-catching labels.
AutofillPDF-labels a simple innovative way which takes out some of the grunt of making labels fillable PDF label templates for U.S. letter-size laser label sheets speeds up label making. Fill in your information in one field and watch as your information automatically fills all label fields within that sheet! All you need to do is download and open up a template, fill a label field and hit the Tab button on your keyboard! Print your labels in an instant. Read this how to make mailing labels with autofillPDF-labels.
Label printing software for Windows:
The Worldlabel Pro wizard designer for your PC is and excellent simple labeling software program to help you design and print your laser labels. A free trial download is available. The Avery Wizard is free to download and works with Microsoft Word. Other excellent label software programs for designing and printing laser labels is the Surething labeler. Shareware trials and freeware are available and there is a bunch of great sites to visit when you can read reviews and download software for Windows, Mac and Linux:
See the Google directory for more Freeware and Shareware sites.
Most Windows OS comes installed with MS Office for MS Word there are label templates preformatted for almost any size label. You can download label templates in Word.
For the Mac, here are a few options:
Label Wizard in Openoffice.org and MS Office:
For MS Office | Click on tab "Mailings" > then "Labels". Use options to find the label you need. For laser labels sizes, Avery US letter is common sized label template. Go to file > New > Labels.
For Openoffice.org: | Go to file > New > Labels > Choose Brand > New Documents. Avery US letter size is the most common sizes for laser labels.
Linux/GNU, Open Source and printing Laser Labels: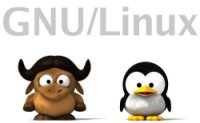 Online generators for labels
Mail Merge for bulk mailings
Mail merge | A software function describing the production of multiple (and potentially large numbers of) documents from a single template form and a structured data source. Mail merge helps to create personalized letters and pre-addressed envelopes or mailing labels for mass mailings from a word processing document which contains fixed text, which will be the same in each output document, and variables, which act as placeholders that are replaced by text from the data source. The data source is typically a spreadsheet or a database which has a field or column matching each variable in the template. When the mail merge is run, the word processing system creates an output document for each row in the database, using the fixed text exactly as it appears in the template, but substituting the data variables in the template with the values from the matching columns.
Please watch this video, Mail Merge using Word 2007 and Excel 2007, to learn more:

TIPS AND PRINTING SOLUTIONS, PROBLEM SOLVING , ALIGNMENT ISSUES
Refer to your printer manual for loading and feeding recommendations. Many printers have special instructions regarding the direction in which you should load sheets. Before you print onto a label sheet, first print onto a blank piece of paper. Place the printed sheet behind the label sheet, and then hold the sheets up to a light to make sure the positioning is correct. If you find your toner is flaking or easily rubbing off, please try selecting "Labels" or "Transparency" in your printer settings as the media type as opposed to paper. These settings are normally found in your print options on print dialog box when you push print or they are located in the display screen on your printer.
Reducing your printer's DPI resolution may give the label sheets a better quality finish.
Sheets of laser labels can be passed through a laser printer only once because the heat of the printer causes the adhesive to soften. If a sheet of labels is passed through the printer a second time, the adhesive could ooze and adhere to the inner workings of the printer, causing the labels to jam or peel off.
Paper jams are often caused by print rollers that have collected dirt and other debris, which clog up the system. To solve this problem just clean the rollers using the printer manufactures' recommended method. It's a good idea to do this every time you change the ink:
Smudging toner usually comes from defective toner cartridges. It is easily solved by replacing the cartridges.
Flaking toner can be solved simply by adjusting the printer settings to reflect the material type of labels you are printing on.
If your paper won't feed through the printer the rubber on the printer rollers has probably worn down and lost its grip, or the printer rollers are dirty.
First try cleaning the printer rollers. If this doesn't help, you may need to replace the rollers. For more on cleaning your printers
Alignment issues can be a nightmare: Make sure your text or image is at least 1/8″ away form the edge of the laser label. Printers can experience "paper-shifting," which causes label sheets to move around in printer trays. This can cause designs to be printed a little off-cue. Here are a couple of fixes: Make sure your label sheets are properly loaded into the printer. To do this, confirm that all sheets are tightly squared and level, both lengthwise and across and in a neat stack.
Using frames and borders around label edges can be tricky. Use a bleed, especially when printing with colors
You might have to print all the way to the edge of the laser label. Some printers have a "non-printable margins". Check this off before you start creating and printing our laser labels.
Please remember, first print on a plain paper and trace it over the label sheets to make sure everything is aligned.
WARNING – Store all label sheets flat and avoid sunlight!
Visit Worldlabel.com for all you laser labels needs

*World Label does not sell Avery-branded labels. "Avery Dennison®", "Avery®" and all other Avery-branded product names and SKU trademarks are trademarks of Avery Dennison Corporation. Avery Dennison does not sponsor or endorse any products made or sold by World Label.