Welcome to OpenOffice.org, the world-class office suite that's also free and open source. This is your new-user orientation. You probably already know that OpenOffice.org includes a word processor, spreadsheet, presentation application, drawing program, and database: you stay productive without touching your wallet. What you may not know are all the resources to help you make the most of your experience. Read on to discover support, tutorials, community insights, templates, clip art, extensions, and blogs.
OpenOffice.org is organized differently than its main competitor. Hoping to entice business users to purchase support and services, Sun Microsystems (recently purchased by Oracle) gives away not just the OpenOffice.org free of charge, but also its source code (the blueprints) and a significant degree of control. OpenOffice.org is organized as a community under the leadership of Louis Suarez-Potts, the community manager employed by Sun Microsystems. Sun funds the infrastructure and most of the software engineers. The community provides additional software engineers, quality assurance experts, marketers, translators, template developers, trainers, help desk staff, and other important roles. Anyone may participate in the community.
Help
Your first stop for support is the OpenOffice.org Support Index, a long list of resources ranging from free forums to consultants and books. If you have a generic question (such as how to get started with Writer, OpenOffice.org's word processor) then it may already be covered in the OpenOffice.org Documentation Wiki. For a well-organized set of Writer tutorials for beginners to advanced users, visit Tutorials for OpenOffice.org. For questions with particular circumstances, post your question for others to answer in public message forums OOoForum.org or the OpenOffice.org Community Forum.
If you are a business considering a large deployment of OpenOffice.org, read the recent article OpenOffice.org Opens up for Business. Paid help is available to ensure a smooth transition.
Template
Honestly OpenOffice.org doesn't come with any templates or clip art worth mentioning, but the community provides free templates that are easy to install.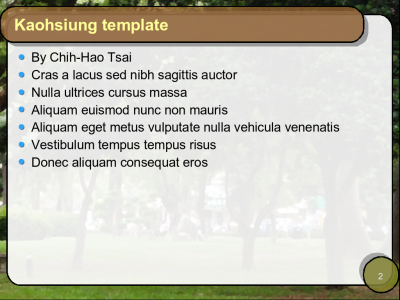 Since the last time I rounded up OpenOffice.org templates more than a year ago, some things have changed. What hasn't changed is my favorite presentation templates are still those designed by Chih-Hao Tsai: they are classic, simple, and elegant. The OpenOffice.org Repositories for Extensions and for Templates are new services organizing many useful templates. It may not be intuitive to look for templates under the Extensions Repository, but many templates packs are distributed as extensions. In particular, try the Professional Template Pack I and II. Once you install the template packs, start OpenOffice.org (any part) and click File – New – Templates to browse the templates.
If you are printing address, mailing, shipping, CD and other types of labels, browse WorldLabel.com's Label Templates.
Remember OpenOffice.org reads Microsoft Office document formats, so you can use most templates designed for Microsoft Office.
Clip art
An easy way to grow your clip art is to install OxygenOffice Extra – Gallery and OxygenOffice Extra – Gallery (free to use). After installation, click Tools – Gallery to browse clip art.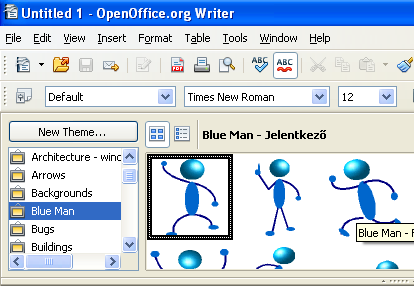 An excellent source of free clip art is the Open Clip Art Library. While I find the online clip art browser difficult, you can integrate the whole clip art collection into OpenOffice.org in 12 easy steps to put tens of thousand of clip art images at your fingertips.
Extensions
Extensions enhance OpenOffice.org with new functionality, and most are available free through the OpenOffice.org Repository for Extensions. In particular, I recommend these extensions.
Check grammar
To underline potentially-incorrect grammar with a blue squiggly line, install the popular LanguageTool extension. It performs well at catching double words, homophones, and other common mistakes.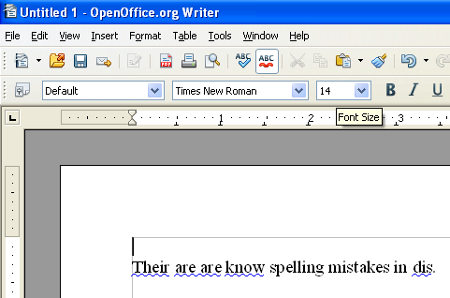 Reduce the size of presentations
Presentations can easily balloon to sizes larger than necessary. For example, you may insert a 3 megapixel image from a digital camera, but over two megapixels are wasted as a typical presentation display is only 0.8 megapixels. The extra size wastes disk space, clogs up email boxes, and takes extra time to download. Simply install Sun Presentation Minimizer to tame the size of these bloated files.
Import PDFs
Not only does OpenOffice.org out of the box export PDFs with advanced options, OpenOffice.org imports PDFs in an editable format with remarkable results. PDFs aren't designed for editing, so don't expect too much, but OpenOffice.org will save some people the cost of buying Adobe Acrobat.
Blogs
The best OpenOffice.org blog is Solveig Haugland's OpenOffice.org Training, Tips, and Ideas. She is long-time user, an instructor, author of three books. She frequently updates the blog with helpful, well-written articles.
My own site OpenOffice.org Ninja chronicles tips, insights, and exclusive previews.
Contributions
OpenOffice.org is a community project. It belongs to all of us, and it takes all kinds of people to contribute. For example, share OpenOffice.org with your family, friends, and coworkers. After it's installed, help them get used to it, and periodically check in with them in case they have a question. If you are an advanced user, answer others' questions on the public message forums. Use your technical skills testing new releases to reduce bugs. Well versed in a non-English language? If so, translate OpenOffice.org.
About the author: Andrew Ziem has worked with OpenOffice.org since 2001 as an author, trainer, tester, and quasi-developer. He blogs about OpenOffice.org at http://www.oooninja.com.