The economic situation is eating into your profits, and the Microsoft Office licenses look more expensive than before. Or maybe you are familiar with the way Microsoft Office has looked for over a decade: it had a file menu, edit menu, and format menu, and you balk at the thought of retraining your staff for Microsoft Office 2007's bizarre ribbon. In either case, you don't have to buy Microsoft Office thanks to OpenOffice.org: the best kept secret in office suites.
OpenOffice.org is a free office suite that includes a word processor, spreadsheet, slide presentation application, drawing program, and database. It's compatible with practically all operating systems and runs well on old and new computers alike. Don't worry about exchanging documents with Microsoft Office users because OpenOffice.org is compatible with many file formats including the new Microsoft Office 2007 formats.

Not too good to be true
Don't let the light-weight price tag fool you to comparing OpenOffice.org with the light-weight Microsoft Works office suite. (Isn't it a little strange that Microsoft's Works and Office compete with each other?) OpenOffice.org has sophisticated features making it useful for personal and businesses use.
It's good to be skeptical about free offers, but OpenOffice.org is the real thing. Its origins reach back over twenty years to StarWriter and StarOffice. Technology giant Sun Microsystems purchased StarOffice and in 2000 released most of StarOffice as the open source project called OpenOffice.org. Open source means the source code (or programming blueprints) are available to anyone who wants to learn or improve it. Open source fosters a rapid, cost-effective, community-lead approach to software development.
Often businesses need paid support and consulting, which are available for OpenOffice.org and its cousin StarOffice from Sun Microsystems and consultants worldwide. If you prefer internal support, you pocket the savings. Either way, enjoy the commoditization of the office suite and making the best choice for your own business.
Easier than you think
Having switched the office I worked at, I know first hand that regular people quickly learn OpenOffice.org. Originally chosen for its price, it was the standard office suite on all computers. Looking back, it would have been ideal to provide training, but the staff, clients, and newcomers learned it with fewer questions than I expected. Many people didn't seem to notice it was not the Microsoft Office they used before.
Switching
The general process to switch is:
Evaluate the product. If you have few documents with macros and few third-party integrations with third-party applications, OpenOffice.org is an easy win.
Make the pitch. Getting support from management is essential.
Roll it out to a select group of people.
Highlight the positives: a familiar interface (certainly more familiar than Office 2007), unique features such as PDF export, and money diverted to higher priorities—raises for all (maybe not).
Roll it out to everyone.
Provide a variety of training and resources because each person learns differently. Some people prefer class room training, some books, etc. In each work area, appoint a leader to field basic questions to provide quick help and reduce overwhelming your mainline support on the day of the roll out.
Next I'll cover some important areas to get you started in your evaluation.
Download and install
Simply open your favorite Internet web browser and visit www.openoffice.org. Follow the links on the page to download the installation files. If you run Microsoft Windows, simply run the installer and follow the prompts.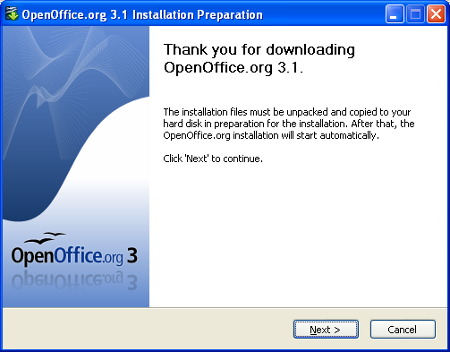 Different names
OpenOffice.org consists of multiple components like Microsoft Office.

If you're looking for email like Outlook, consider Google Apps Messaging, Zimbra, and Scalable OpenGroupware.org.
Starting up
There's a variety of ways to start OpenOffice.org. On Microsoft Windows, OpenOffice.org puts a shortcut on the desktop. Just double click it.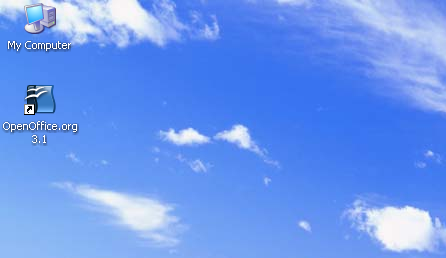 On Windows, you can start OpenOffice.org from its quickstarter next to the system clock. Right click on the quickstarter, and then left click on the component.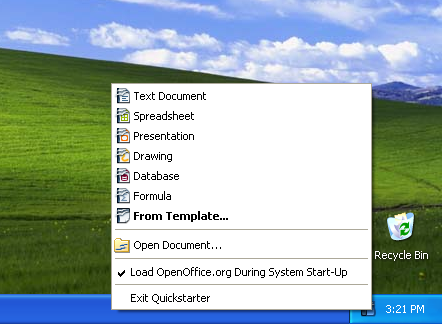 Like any Windows application, it can be started by clicking on the Start Menu, then clicking Programs, then clicking OpenOffice.org, and then clicking on the component.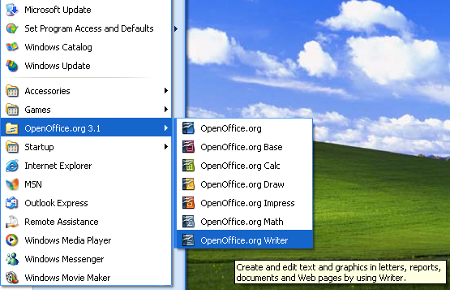 Of course, you can start OpenOffice.org by opening any of the documents associated with it on your computer, in your email, or online.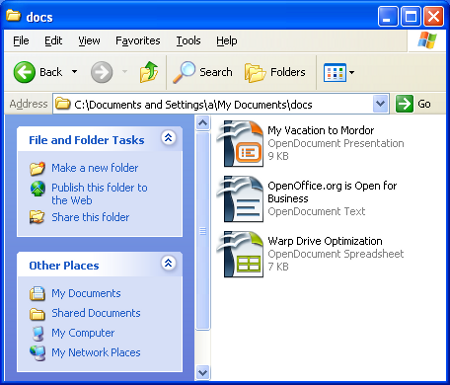 First look inside
At a first glance, OpenOffice.org Writer version 3.1 looks more like Microsoft Word 2003 than Word 2007 looks like Word 2003. OpenOffice.org has the familiar menu bar and toolbars, and many commands are found in the same place as in Microsoft Office.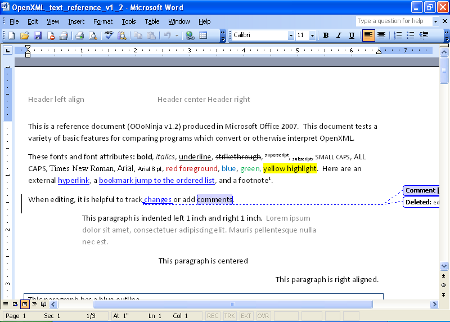 MS Office Word 2003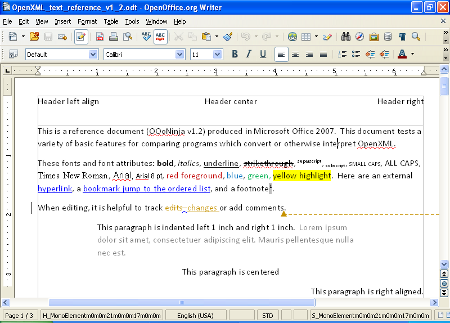 OpenOffice Writer 2003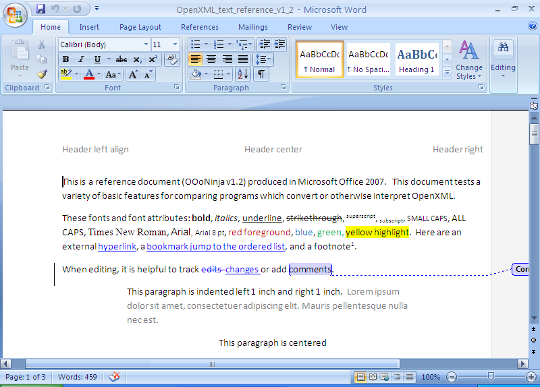 Word 2007
Customizing OpenOffice.org
Make OpenOffice.org feel like home by customizing it. Here are a few suggestions.
Better safe than sorry: to enable document backups, click Tools – Options. Click Load/Save and then General. Check the box labeled Always create backup copy.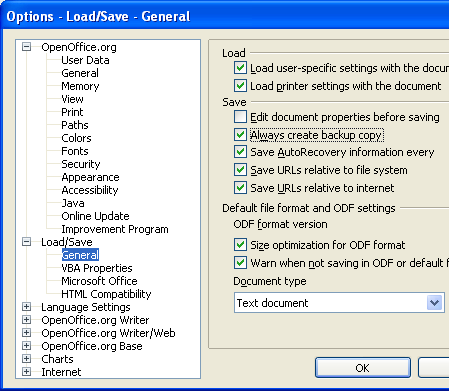 The word completion feature saves time by finishing long words. If you see OpenOffice.org has correctly guessed the word you are currently typing, press the Enter key to accept the word. If you prefer to disable this feature, click Tools – AutoCorrect. Click the last tab Word Completion. Then uncheck the box Enable Word Completion.
By default OpenOffice.org only prints the selected worksheet instead of the whole workbook. If you prefer the Excel default, do this: open Calc. Click Tools – Options. Then click OpenOffice.org Calc and Print. Finally uncheck the box Print only selected sheets.
Sharing documents
While OpenOffice.org does fairly well saving in Microsoft Office formats, it's best to retain the default setting to save documents in OpenDocument formats.
If you need to retain a few machines on Microsoft Office, either make OpenOffice.org the primary office suite or install the OpenXML / ODF Translator, Sun ODF Plugin for Microsoft Office, or Microsoft Office 2007 SP2. Any of these will allow Microsoft Office to share ODF files with OpenOffice.org users.
Chances are those with which you do business outside your organization use Microsoft Office. When sending documents externally, train your staff to click File – Send – Email as PDF or Email as Microsoft Word. In the future ODF may be the ideal exchange medium, but today PDF and Microsoft Office formats are the de facto standards. (Freedom purists should remember the specifications of the binary Microsoft Office file formats are covered by the Microsoft Open Specification Promise).
Recommended extensions
OpenOffice.org is a breeze to enhance with many free extensions available at http://extensions.services.openoffice.org/. Here are a few favorites.
Check grammar
To underline potentially incorrect grammar with a blue squiggly line, install the popular LanguageTool extension. It does well at catching double words, homophones, and other common mistakes.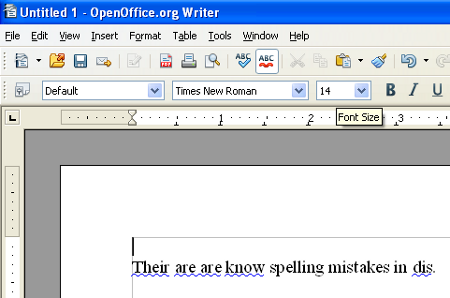 Reduce the size of presentations
Presentations can easily balloon to sizes larger than necessary. For example, you may insert a 3 megapixel image from a digital camera, but over two megapixels are wasted as a typical presentation display is only 0.8 megapixels. The extra size wastes disk space, clogs up email boxes, and takes extra time to download. Simply install Sun Presentation Minimizer to tame the size of these bloated files.
Import PDFs
Not only does OpenOffice.org out of the box export PDFs with advanced options, OpenOffice.org imports PDFs in an editable format with remarkable results. PDFs aren't designed for editing, so don't expect too much, but OpenOffice.org will save some people the cost of buying Adobe Acrobat.
Templates
Microsoft Office ships with many templates, and OpenOffice.org doesn't. Don't worry because installing templates is easy, and there are many nice templates available for free. Start with these: Sun Template Pack I, Sun Template Pack II, and Label Templates. Remember OpenOffice.org reads all Microsoft templates! Read this post for more resources and user orientation.
Fonts
The best fonts are those that everyone has to ensure the document looks the same on all machines. De facto standards are Times New Roman, Arial, and Courier New, and OpenOffice.org automatically substitutes these fonts if not available (for example, on Linux). OpenOffice.org comes with the DejaVu and Liberation families; the latter is very similar to Times New Roman, Arial, and Courier New.
If you run Windows XP, install the Microsoft Office 2007 fonts (such as Calibri) for better compatibility with Office 2007 documents.
For branding purposes, you may want to deploy a common font within your company. A personal favorite is Gentium Basic, and OpenOffice.org supports any TrueType font installed on your operating system. When exporting PDFs, OpenOffice.org automatically includes a subset of the font, so the document looks exactly the same on all machines.
Getting help
As you build expertise within your company to support routine issues or need assistance with one-time situations like initial deployment, check OpenOffice.org Support for free and paid resources including service plans, consultants, books, tutorials, and online forums. Check back later on this web site for a more thorough guide to OpenOffice.org resources.
Conclusion
With its mature feature set, strong support system, and economical price tag OpenOffice.org can add solid value to your business. When you are ready to put your cash to better use than paying The Other Guy, start planning your own OpenOffice.org migration.
About the author: Andrew Ziem has worked with OpenOffice.org since 2001 as an author, trainer, tester, and quasi-developer. He blogs about OpenOffice.org at http://www.oooninja.com.

Visit Worldlabel.com and check out the selection of Laser Labels and Inkjet Labels