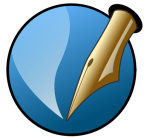 Scribus is the leading open source solution for desktop publishing (DTP); it supports professional features like press-ready color separations and PDF output, as well as every media file type under the sun. With Scribus you can design high-end documents with a separate workflow for authors, photographers, and graphic designers in an office environment, but it is easy enough for single-user work, too. The latest release, 1.3.5, just hit the Internet, and packs a suite of new features. If you have never taken Scribus for a test drive, now is the time.
You can download Scribus installers for Linux, Mac OS X, and Windows from the project's Web site. Version 1.3.5 boasts major improvements in OS X compatibility, for the first time integrating completely with the native windowing and menu systems, which should encourage many Mac owners who found earlier releases not quite "Mac-like" enough to blend in.
If you're familiar with proprietary DTP applications like Quark XPress or Adobe InDesign, you should have no trouble navigating Scribus. If you're used to building (or trying to build) documents in a word processor, however, you'll save a lot of time by glancing at the Scribus project's documentation. In a nutshell, DTP apps like Scribus focus on laying out the different parts of a document as separate pieces. Where you want text, you put in a text frame, when you can then move about and resize at will. Where you want an image, you drop in an image frame. It's a little different, but it gives you a lot more control than the tab-based spacing and pagination that are the limitations of a word processor — if you want two columns in Scribus, you simply put in two text frames side-by-side, exactly where you want them.
Mailing labels are a good example of documents that take advantage of DTP's highly structured approach. You can design a simple label layout with ease, then duplicate it for an entire page's worth for easy printing; the result is much easier to work with and make changes to than the same layout in a word processor.
DTP basics
For example, open Scribus and create a new document. Even better, download a template and open it. Scribus can read PDF, EPS, OpenOffice, and several other formats. Microsoft Word support is spottier but possible; select an application-neutral format like PDF if you have a choice to get the best results. Scribus will import the PDF or EPS template page as an image; this is what you want because it allows you to lay out text elements against the template as a background.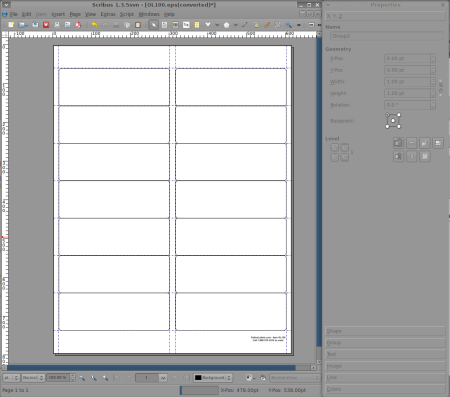 Add vertical and horizontal guide lines around the labels by clicking the mouse in the rulers outside the page and dragging the guides into the window. These will help align text and image frames. Zoom in on the upper-left-most label. Now you can add text by clicking on the Insert Text Frame button, or by choosing Insert Text Frame from the Insert menu. The cursor will change shape to resemble the Insert Text Frame button; click it anywhere and a dialog pops up allowing you to specify a width and height — to accept the default values, just hit Return.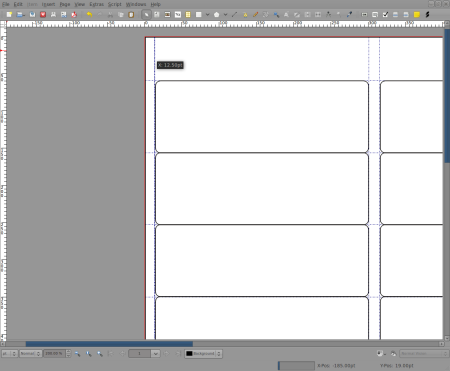 The result is a transparent frame with handles on all four sides and in each corner; you can drag it around and resize it at will. To actually edit the text that goes in the frame, click the Edit Text button in the toolbar. What pops up is akin to a word processor screen, with all of the font and formatting choices normally provided. The advantage to Scribus's DTP approach is that you can edit the text and worry about the layout separately.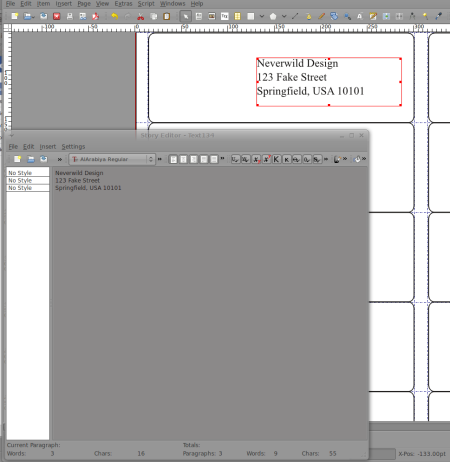 To add an image, use Insert Image Frame, either from the menu or toolbar. You will notice that image frames are filled with an "X" when empty to distinguish them from text frames. From the right-click context menu you can choose Get Image to load an image into the frame. Scribus does not actually embed the image file into the Scribus document; this is another DTP standby — by keeping the files separate, artists can make updates to the images without the page designer having to re-import everything.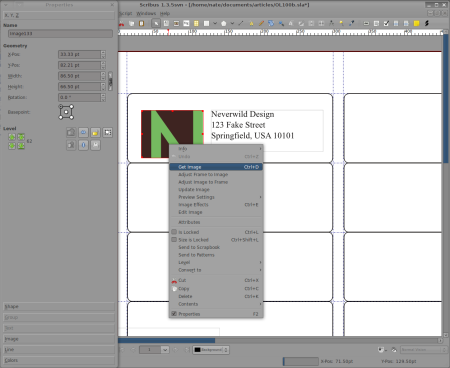 Naturally, you can add as many images and text frames as you like, and re-order them with layers. You can also create graphical elements directly within the page, such as bezier and freehand lines, polygons and shapes. Almost every attribute of any shape or frame is editable from the right-click menu or from the floating Properties palette. By controlling each page element separately, you have total freedom over the layout.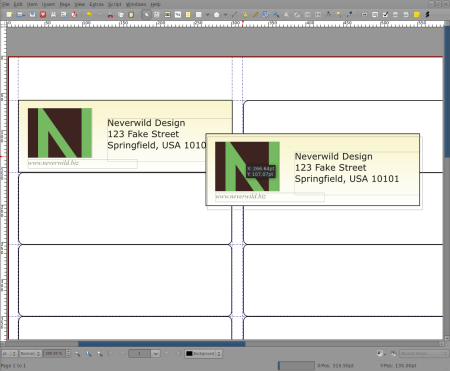 When you are finished designing one label, select all of the elements and choose "Group" from the Item menu; this will tie the elements together so that they can be moved or copied as a single unit. You can then copy and paste as many as needed to fill up the page. And because Scribus intelligently tracks which items are used in the document, you can re-use the same image as many times as you want without the Scribus file growing any larger.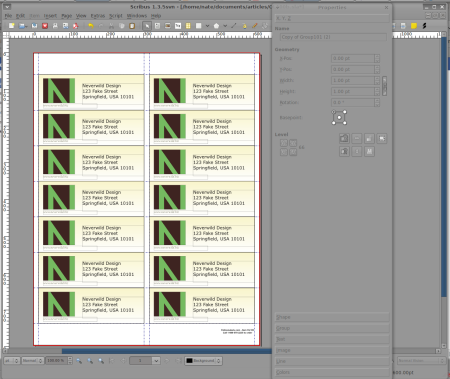 Going further
Of course, this is only the beginning of what Scribus can do. It really excels at multi-page documents, where you can link text between text frames so that it flows through columns and across pages, around graphics, and more. In this example, the two main text boxes are linked, so that the copy — here, "greek" text automatically generated by Scribus — runs continuously through them. That facilitates easy re-arrangement on the page. The puzzle-piece graphic is overlayed on the left-hand column, but as the Properties window shows, the text is set to flow around the outside edges. Elsewhere on the document you see examples of different image types, lines, and other graphical elements.
On top of these long-standing features, the new 1.3.5 release adds several interesting capabilities, including "render frames" — frames for which the contents are created by an external program, such as a 3-D scene, LaTeX formatted formulas, or even typeset music — transformation and path-editing tools like those found in dedicated vector graphics editors, and image effect filters that you can apply to pictures within Scribus without altering the original file.
Scribus also sets the bar among free software applications in its support for the PDF standard. No longer just for Web downloads, PDF is rapidly becoming the format of choice for professional print shops, thanks to its exacting specifications for images and fonts. Scribus supports PDF 1.3, PDF 1.4, and PDF 1.5 output options, and the "demanding" PDF/X-3 specification that tailors the format for press-ready documents.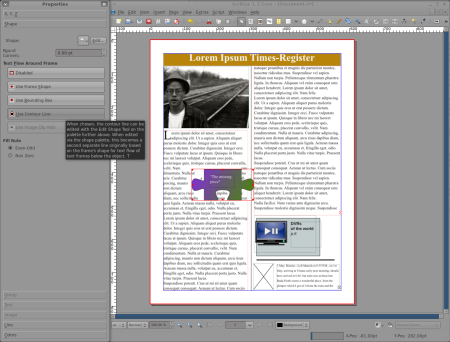 Speaking of compatibility, Scribus 1.3.5 also adds important features to allow users to work with documents created in other applications. Scribus can now import vector illustrations created by Adobe Illustrator, and can import color palettes created in applications like InDesign — including the popular proprietary Pantone color-matching system.
by Nathan Willis


Visit Worldlabel.com and check out the selection of Labels for laser and inkjet printers