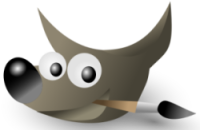 Web designers, photographers and graphic designers loving the Adobe Photoshop Product family – a collection of graphics editing programs developed by Adobe Systems to create and edit images – should have a look at its open source alternative, GIMP.
GIMP – GNU Image Manipulation Program – is the most well-known open source graphics editing application, born in 1995 as reported in the GNU free software directory, is a freely distributed program for tasks like photo retouching, image composition and authoring. Last but not least the so-called batch mode that allows you to do image processing from the command line.
GIMP is not only an expert quality photo retouching program, it is also a simple drawing program and an image format converter (it's worth mentioning that it manages psd, Photoshop's file format as well as scalable vector graphics (svg) file format).
GIMP is extensible, its functionalities can be augmented with plug-ins and there are extensions that allow you to configure GIMP to replace Photoshop to do just about anything.
If you really want a GIMP version as close as possible to Photoshop, I recommend that you also take a look at GimPhoto, a GIMP modification with a different menu layout, selection of plugins, and additional resources. GIMPhoto, used in combination with GimPad, formerly known as GimPhoto Desktop, gives its best, and you don't need to spend time searching all over the internet to find plug-ins to extend GIMP capabilities.
GIMPshop also use GIMP as the backend, adding an extra interface to make its look&feel more like Photoshop. GIMPshop addresses some common criticisms regarding GIMP's interface, modifying the menu structure to adjust the program's terminology to match Photoshop.
GIMP comes with documentation for both users and programmers, including tutorials.
By Roberto Galoppini of Commercial Open Source Software