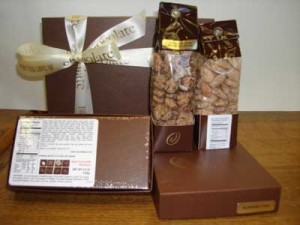 Joan Vieweger, Co-Founder of Choclatique…chocolates out of the box!, provided us with some beautiful images to show how she uses Worldlabel labels for her merchandise. After you take a look at this packaging, you might remember that Valentine's Day is just SIX DAYS away! Before you get caught short, you might visit Choclatique. They were Voted "Most Gifted Chocolatier" by the International Chocolate Salon last year!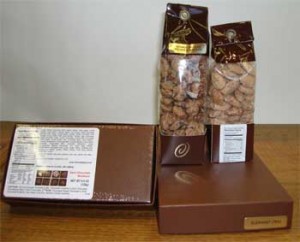 Joan uses gold labels to identify product types, varieties and weights, as you can see above in the nut front and side view of the assortment box. A close-up of the nutrition information on the assortment box is shown below: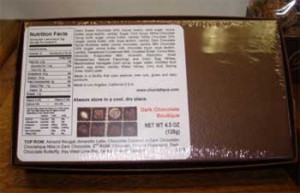 Choclatique uses white labels as shown above to apply nutritional information and for bulk pack product identification. As you can see from the image below, Joan uses a wide variety of sizes in both the gold and white labels to supply the information she needs to apply to all her food packagings: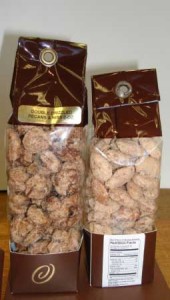 Joan states, "Due to the number of sku's we have in our line, the flexibility of your labels is great. We can easily:
Replenish supply when needed on the assortment labels and include a production date for each different production run
Make changes on the fly to our nutritional labels when there are ingredient changes from suppliers
Create new sizes of offerings when needed from 1# ballotins to 8-oz. bags to 3-oz. samples
"We also use the labels to help organize the bulk pack product inventory and for creating easy-to-read labels for use at trade shows."
Thanks, Joan, for a wonderful recommendation, especially from such a wonderful company. Choclatique is a privately owned, super-premium chocolate company founded in 2003 by Ed Engoron and Joan Vieweger. Hand-crafted in their Southern California Chocolate Studios by professional artists and chocolatiers, Choclatique provides over 200 *Authentically American premium chocolate confections, from traditional to whimsical, to secretly savor or share with those you love. Choclatique assortments are available high-end boutiques, 5-star hotels and clubs and online at www.choclatique.com. Be sure to visit the blog, too, at http://www.choclatique.com/blog/!
*Choclatique's procurement policy is to buy sustainable, American-made and sourced products. All of their confections are made in their Southern California Chocolate Studios. They are proud to support the United States economy.