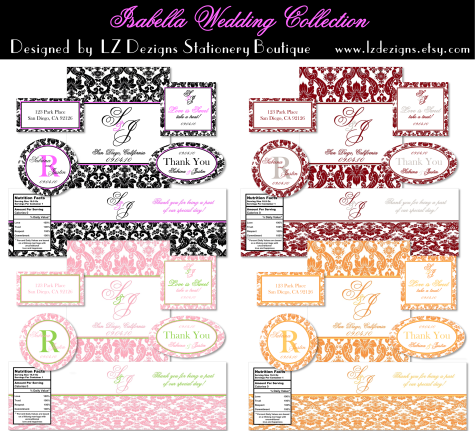 These stunning Wedding Labels are by LZ Dezigns Stationery Boutique, a studio that creates designs for any occasion and holidays. Visit their Etsy shop and browse their beautiful designs.
Four awesome wedding labels sets for free in fillable PDF templates to choose from. Each set with 6 different labels:
Specs: These Wedding labels in PDF are cross-platform and application independent. They will work on Mac OSX, Linux, Windows, Solaris and other operating systems. There can be compatibility issues among different PDF Readers. For optimum performance and full use of all functions, we recommend you download for free Adobe PDF Reader version 9.
Fonts: If you want to change the font type, size or color, (as well as bold, italics, etc.) select Control +E if you're using a PC or Apple + E on a Mac. A toolbar will appear giving you additional text properties. Select "More" in the font properties toolbar for paragraph alignment and more.