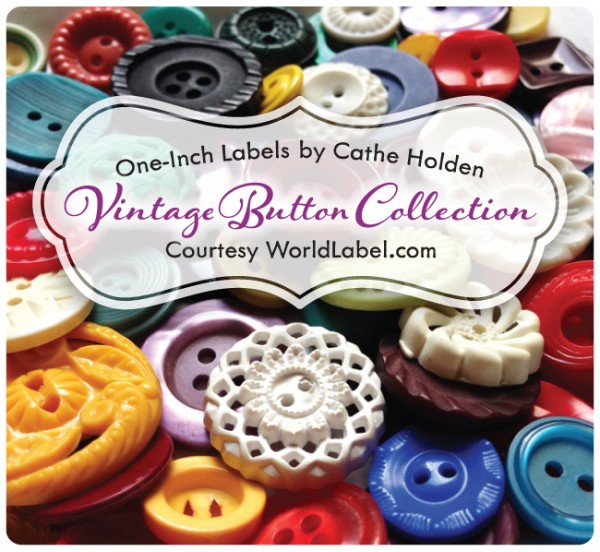 The other night as I enjoyed (Cathe Holden of Justsomethingimade.com) sorting through bags of colorful vintage buttons I'd been collecting I had a "Eureka!" moment: Button stickers! So off to my scanner and on to my desktop I went.
– I hope you'll enjoy this fun collection of 63 vintage button images sized to fit World Label one-inch label stock.
– Download the FREE PDF file, print to label stock and use button stickers for:
– Envelope seals
– Decorating plain gift wrap
– Organizing your own button tins or jars by color
– To denote special dates on your wall calendar
– Whimsical garland (attach button labels back to back along a string)
– Collage and other craft projects
– Furniture embellishments
– Lunch sack closures
ALSO: Feel free to also print to paper or cardstock for cutting out individual button images with a one-inch paper punch for:
Confetti
– Paper stitching projects
– Tokens/award chips
– A game: Print and punch two sets, place matching pairs randomly upside down on a table to create a memory game like "Concentration".
What would you do with a vintage button label collection? Please share!