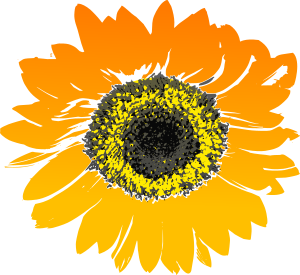 When we released Open Clip Art Library 0.19 last week, the amazing importance of getting back on track with monthly releases cannot be undervalued. As such, we hit a goal of 10,000 pieces of clip art uploaded to our new system. For April we are shooting to get 12,000 total pieces. Right now on April 10, we have 10,540 pieces!
And, for the month of April we challenged the community to upload images related to spring. Mokush hit this one on the head with the lovely sunflower. Please use it freely in your compositions, on labels, on stationary and anywhere you see fit.
Please help us as well grow the project to 12,000 pieces, all which will be included in the upcoming 0.20 Open Clip Art Library packaged release, news written about, and publicized at the upcoming Libre Graphics Meeting in Montreal.