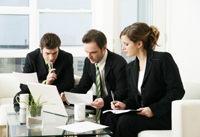 Who hasn't attended a meeting where the organizers are anything but what their title suggests? Delays due to technological glitches, missing documents, confusion over where and when the meeting is to be held, and other types of meeting disasters make for frustrated employees and disappointing outcomes. The key to an efficient and successful meeting must begin with careful planning.The best news is that planning can be simplified and easy. Follow these few simple steps for the best results:
Devise an outline for the meeting that includes specific, doable goals. A meeting, like a good book, needs a strong, catchy beginning, a meaty middle, and a satisfying ending. List concise topics and talking points on your agenda to avoid unnecessary tangents and to ensure a productive outcome.
Determine what assistance is needed from others. Make a list of those who will be assisting and contact them early. Alert printers, assistants, caterers, IT departments, guest speakers, and other peripheral participants and continue to stay in touch as the meeting becomes more organized.
Be realistic. While it is tempting, don't try to do too much at any given meeting. Attendees may become frustrated, bored, or confused if too much is thrown at them at once. Keep your meeting on task by sticking with precise, concise goals and ideas. Plan your reading materials and presentation around those ideas and strive not to deviate from them during the meeting.
Establish an expected outcome. You and the others in attendance are always free to change the direction of stated goals, but having at least an idea of what you would like to accomplish as a result of the meeting is a vital component to determining what should happen next. As the old saying goes, "nature abhors a vacuum." Don't let your meeting fall victim to a wide, open-ended agenda that quickly overflows with tangential, vague, and confusing ideas and unrealistic goals.
Prepare a list of thought-provoking opening questions and icebreakers. Even if attendees all work in the same office, prepare an icebreaker question ahead of time that will encourage instant dialogue. Keep it light-hearted or humorous, but also intriguing and better yet, somehow related to an agenda item. Also, prior to the meeting, compose a list of pertinent questions and distribute as a memo or an email attachment so those attending can get their creative juices flowing before they take a seat at the conference table.
Contact attendees early. Employees typically have highly diverse daily schedules. Send your invitations out early in order to ensure a good turnout. And don't forget to send out a final email reminder the day before, and be sure to request a response.
Distribute reading materials beforehand to save time during the meeting. Reading lengthy articles and summaries during a meeting wastes a great deal of time. Email or hand-deliver copies of such materials several days in advance, and encourage attendees to read and be prepared to discuss. If you know you'll need a number of documents and charts printed and organized into folders, don't wait until the afternoon before to get started! If you have access to an assistant, let them know at least several days in advance. If you will be printing and assembling materials during your own busy schedule, try producing the materials in stages and set a specific deadline for yourself to make sure on the day of the meeting everything is in place and ready to go.
Set up and test any technology and equipment required. Try to set up any technological and physical environment needs well ahead of schedule. Make a list of what you will need: computer, microphone, screen, podium, sufficient chairs, and whatever else is required. Do a technological "run through" the day before the meeting to be certain you understand how to use each device. If you are using PowerPoint, email the file to yourself as a backup. Check to make sure your PowerPoint is compatible with the system you plan to use. Also, be sure to have a plan in place should equipment fail at the time of the meeting.
Make your meeting irresistible: provide lunch or snacks. Nothing brings people to a meeting like food and drink. Certainly they help to create a relaxed, even social environment that encourages open discussion. If you decide to provide snacks, pizza, or lunch be sure to point this out in memos and emails concerning the meeting.