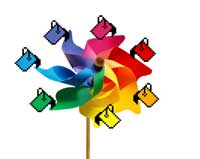 Want to choose just the right color for your labels? Design a logo on the fly? How about simply making the corners of your images round so they look great with round-edged labels? There's no need to spend money and time on a complex graphic design program when there are so many free tools available to make label design a snap.
In this post, I'll stick to the many cool tools to choose from if you're using a Windows-compatible PC. Stay tuned for future posts about Mac and Linux-compatible tools.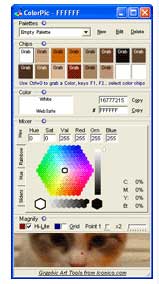 If you want to match text to photos or graphics for professional-quality labels, there are several free online "color pickers" that will save you the trouble of opening your file in an image editor and dragging out the eyedropper tool just to get the RGB or hex code for the color you want to match. One such program is ColorPic (image shown at right), which is a freeware Windows program. It has a built-in magnifier and mouse "nudge" function, and ColorPic also takes the guesswork out of selecting an entire palette of colors. A couple of programs designed to sample colors directly from the Web are Instant Eyedropper and ColorSchemer's ColorPix.
Say you want to superimpose a picture of one of your associates over an image of your office and make a business card out of it to print on World Label labels or along with free printable business cards from my site, FreePrintableBusinessCards.net. A freeware program called Merge makes it a one-step process to incorporate elements of two images into one, join four images into a quadrant or merge text with an image. For instance, you could also use Merge to watermark your copyrighted photos on labels or other materials.
How about if you're still in startup mode and haven't yet had a company logo designed? CoolText is a graphics generator that can quickly serve up a logo based on a couple of dozen designs with the text, font and color of your choosing. In some cases, you can even upload your own background image. CoolText spits out a downloadable file in formats such as JPEG, GIF, PNG, Photoshop and .XCF (GIMP), ready to print onto labels or add to free printable business cards.
With all of these great tools, you can have fun designing your own labels without the headaches. Remember, if you're using an online label-design template, such as those available from WorldLabel or FreePrintable.net, be sure to keep all artwork at least one-eighth inch from the edge of the labels.
Kevin Savetz is the creator of FreePrintable.net, a network of more than 25 sites that offer printable certificates, business cards, resume templates, and other printable items.