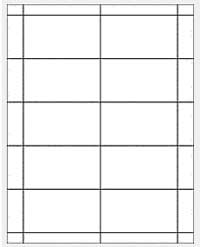 When you need business cards right away, there's no time to mess around with companies that charge big bucks and take weeks to print and ship. One solution is to keep high-quality, formatted business card cardstock on hand when you need to print cards for employees, temporary contractors, title changes and other situations.
WorldLabel has a PDF template designed to work with its business card cardstock. The template is compatible with most graphics programs, but you can also simply forgo the template, load the heavyweight cardstock sheets into your printer, and print out pre-designed business cards you can find for free online. A few seconds later you'll have new 3.5-inch by 2-inch business cards in your hand, 10 to a sheet, finely perforated and ready to separate and distribute.
WorldLabel's business card cardstock's margins and spacing (shown in the image above) match the specs for the more than 200 free printable business card designs from my site, FreePrintableBusinessCards.net. Simply choose a design and decide if you'd like to instantly download the free .DOC version (editable in Microsoft Word) or, for $3, a .DOC version in which you can edit out the Web site name. Printable business card designs are available at other sites online as well. Microsoft Office users have shared some in that company's online community, there are more freebies on Hewlett-Packard's site, and on Google Docs.
While neither Worldlabel.com nor FreePrintable.net is affiliated with Avery-Dennison Corp., both the printable business cards and the cardstock are similar in format to Avery products 5371, 8371 and 8871. Be sure to uncheck "fit to page" in your printer's preferences so the images print at the correct size.
By combining the free resources at FreePrintable.net with the easy-to-use cardstock from WorldLabel, new business cards are only as far away as your laser or inkjet printer. Bonus: You won't have to yell at the employee who waited until he was down to his last card before letting someone know it was time to reorder.
Kevin Savetz is the creator of FreePrintable.net, a network of more than 25 sites that offer printable certificates, business cards, resume templates, and other printable items.