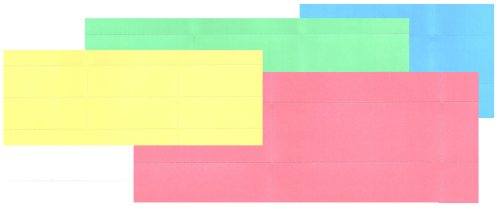 Worldlabel.com is a large manufacturer of blank custom labels for laser printers as well as inkjet for both personal and business applications. If you cannot find the labels you're looking for at World Label or anywhere else, contact us now! We can easily create any label configuration you require with both permanent or removable adhesives. No Matter how complicated, no matter the quantity. For address, shipping, specialty product labels, bottles and more.
Clear, glossy, weatherproof, waterproof custom laser and inkjet labels in any size on any size sheet for laser and inkjet printing.
Unicor is one company that ordered quite a complicated laser label sheet, each label needed to be perforated and at the same time feed threw the laser printer smoothly. They also required 5 different custom color sheets.
Testimonial From Unicor:
"The labels are great, just what I ordered. The go effortlessly through my printer and tear easily when needed. It is a quality product and I do intend on letting the other factories printing these tickets know who you are.

"On the down side I could have requested a couple of more options to suit my needs that I didn't think were important at the time. I should have had a few holes punched in the center that they use to tie the bundle tickets to the bundle of shirts, I am getting a hand punch so this can be done. And I should have requested a strip be left off the sides, when the operators tear off the operation ticket after sewing the bundle it makes it difficult to remove the paper backing at the end of the day to place the labels on their production sheets. Both problems I can work around but I would like to know if these two options would be available for future orders.

"Once again, I love the labels, and look forward to doing some more business when my stock gets low. Thanks."
You, too, can order any shape or size custom labels on 8.5″ x 11″ label sheets, available for laser or inkjet printers from Worldlabel. Please note, for any custom label configuration there will be a 100-sheet order minimum. Visit our contact page to learn more.