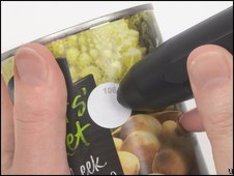 A device that allows blind people to attach and read audio labels on everyday objects has gone on show. The PenFriend uses minute barcodes which – when scanned by a digital pen – trigger MP3 files recorded on the unit.
The PenFriend has been developed by a UK firm together with the Royal National Institute of Blind People (RNIB).
It costs less than £60, and can be used to label foods and medication as well as clothing, personal documentation and film and music collections.
"At the moment we are just scratching the surface: we are starting development of address books, organisers, diaries and calendars," explained Alison Long of the RNIB.
The PenFriend is the result of collaboration between the charity and London-based company, Mantra Lingua. It uses optical identification technology (OID) to print microdots on to adhesive labels which are then read by the scanner in the tip of the PenFriend.
Read More at  BBC