Openoffice.org has launched a new website specifically for templates: http://templates.services.openoffice.org/. Here you can find all the templates you need for presentations, letterheads, business cards, all types of spreadsheets and lots lots more. Search by Tags, highest rated, most popular, latest template,  business, education and private.
If you have created a great template, please feel free to upload it and share your work with the community.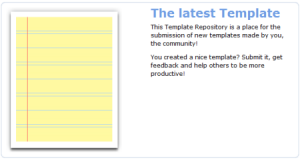 If you need label templates for Openoffice.org Writer and Draw visit the Worldlabel Openoffice.org template page.

Don't forget Openoffice.org Extensions, these are macros/add-ons that extend Openoffice.org in all types of ways and functionality. There are almost 300 great extensions to help you become more productive. Here you can also publish your extensions and discover how popular they are. Check out the Sun PDF Import extension, Writer Tools, Color palettes and color Atlas, Wordlabel's OOoDesignedLabels and so much more!