Print Your Labels and Business Cards In An Instant, Easy, Simple and Quick.
AutofillPDF Labels is a handy web tool for anyone who's wanted to print their own labels of any kind, but loathes the idea of manually filling out the printing template over and over.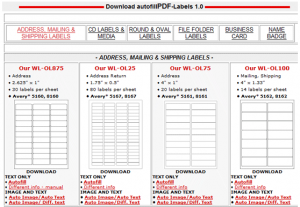 Many print-your-own label packets come with links or CDs that provide you with a pre-formatted Word document to fill out. Unless you're getting married or sending out other invitations, though, you'll usually end up putting the same thing on each label, and Ctrl-C/V-ing your precious time away.
This handy webapp pops open a scripted PDF file on any system, while letting you change the font, styling, size, and other text properties, and also add images in short shrift. In other words, you create one label, and the PDF fills out the rest of them for you. The templates include CD labels, address or mailing, file folder labels, and even non-sticky business cards. Free to use, no sign-up required, and it works best with Adobe Acrobat (the free reader).
Via Lifehacker.com

via Makeuseof.com