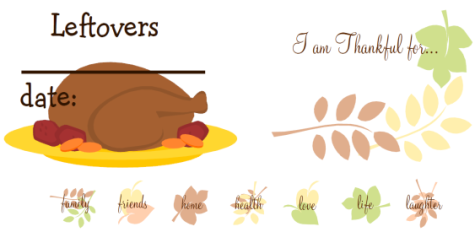 Here are some outstanding Thanksgiving Labels in printable templates illustrated / designed by Tricia-Rennea. There are 3 sets, the first set Tricia calls "leaves of gratitude," the second set are very cute small round labels which goes with the first set and can be used for many different things. The third set is what we all want "the dinner is ready."  These are for yummy  "leftovers."
Specs: These printable Thanksgiving labels  in PDF are cross-platform and application independent. They will work on Mac OSX, Linux, Windows, Solaris and other operating systems. There can be compatibility issues among different PDF Readers. For optimum performance and full use of all functions, we recommend you download for free Adobe PDF Reader version 9.
Fonts: If you want to change the font type, size or color, (as well as bold, italics, etc.) select Control +E if you're using a PC or Apple + E on a Mac. A toolbar will appear giving you additional text properties. Select "More" in the font properties toolbar for paragraph alignment and more.
Tricia: "I took traditional Thanksgiving colors, and muted them to more softer, thoughtful shades.  I drew 3 different leaves, and varied the colors on them, as to give a scattered, fallen leaves look."  This set includes an alternative to "Hello my Name is.." tag with an "I am Thankful for…" tag. Each guest at the party can write what they are thankful for on the tag and wear it at the party, it is a conversation starter and a great way to share a feeling of gratitude"  Use Worldlabel WL-750.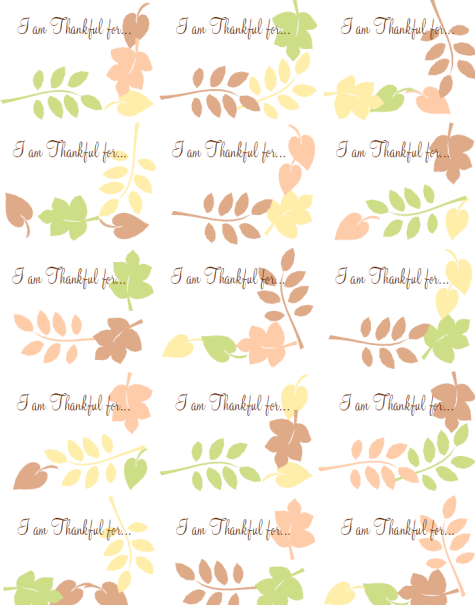 Download Autofill | Download different info

The second set is small round labels using WL-1025 size —  they use the same leaves as the name tag and each has something to be thankful for written on them. They can be used as envelope seals for your thanksgiving cards or party invites, put them on a ring of paper to use as napkin rings, embellish party favors with them, or just give them to friends as a reminder of all there is to be thankful for.
Download Autofill | Download Different Info

The third set are  "The dinner is ready!" and here are the leftovers. After Thanksgiving, we all have them, we all want them, so send your family and friends home with a nice serving of leftovers with these fun colorful dinner labels. Use Worldlabel WL-750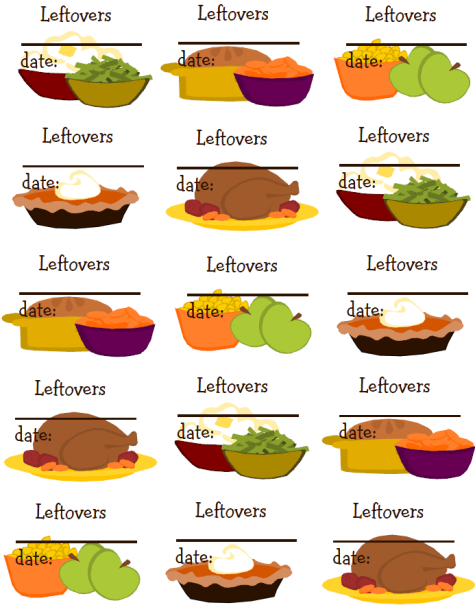 Download Autofill | Download Different Info
Check out Tricia's hand illustrated gift labels  and make sure you visit her free to print page on her website.
Please visit our Free Printable Labels gallery for more awesome designs by Tricia and other artists. Please make sure to come back as we keep releasing awesome free original labels for you to print.