Tricia-Rennea honored us with some hand-illustrated labels using our sizes. The first using our WL-550 Multipurpose size: 4.25 x 2.75″, 8 labels per sheet using the Monterrey font:
"My idea was to create 2 doors to represent the home of the giver and the home of the receiver. They could be used by neighbors and friends when giving each-other a homemade gift this autumn, on jars, boxes, bags of cookies, baskets of vegetables, what ever they like, really.  I wrote From Our Home… …to Yours! on the top, but left plenty of blank space in the middle to add personal text." said Tricia Wilson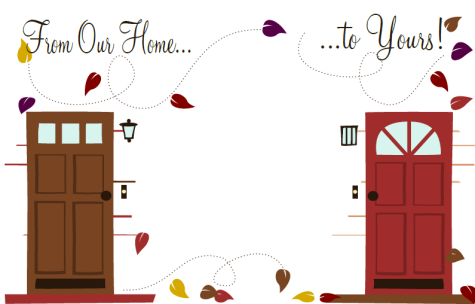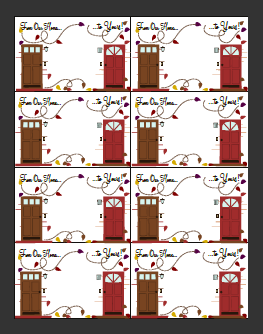 Download Fillable PDF Template

The second illustration is using our round labels WL-350, and are designed to coordinate with the first set. They simple bird stickers that can be used as they are, yet there is enough blank area to add text.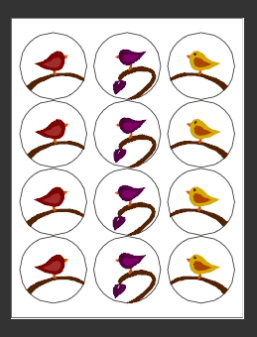 Download fillable PDF Template
Check out more awesome designs from Tricia, including illustrated and are free to print from notecards, valentine hearts, Halloween tags, calendars and so so so much more amazing stuff, yes all for free!!!
About the PDF Fillable Templates
Specs: These vintage cards and  labels in PDF are cross-platform and application independent. They will work on Mac OSX, Linux, Windows, Solaris and other operating systems. There can be compatibility issues among different PDF Readers. For optimum performance and full use of all functions, we recommend you download for free Adobe PDF Reader version 9.
Fonts: If you want to change the font type, size or color, (as well as bold, italics, etc.) select Control +E if you're using a PC or Apple + E on a Mac. A toolbar will appear giving you additional text properties. Select "More" in the font properties toolbar for paragraph alignment and more.