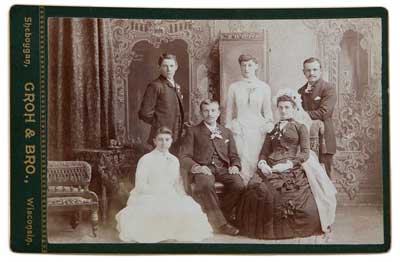 The wedding cake has endured a centuries-old tradition dating back to the days of the Romans, when the groom would break a loaf of bread over the bride's head, symbolizing the breaking of the bride's virginal state and the subsequent dominance of the groom over her. Today, the cake is too large and unwieldy to pick up and break over the bride's head. Additionally, the bride may retaliate if the groom even thought about reviving this ancient custom.
One other tradition, the groom's cake, is a fading practice as well. But, it can be a sweet (literally) tradition to continue if you're so inclined. Read on to learn more about the groom's cake and how you can create or purchase boxes for your friends and family to carry away from the reception.
The groom's cake tradition was prevalent in early American wedding ceremonies, but now is practiced mainly in Southern states. This cake, separate from the wedding cake, usually is dark (chocolate or fruit cake) to contrast against the brilliance provided by the bride's cake, or wedding cake. The groom's cake appears alongside the bride's cake at the reception. At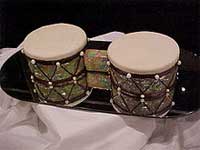 my southern wedding, this was the cake that we used to send home with our guests at our small wedding (note the "small" — for a larger wedding, you may need more than one groom's cake).
My choice to use the groom's cake proved thrifty at my reception, as we were able to purchase a smaller wedding cake, knowing the 'dark' cake would go home with guests. Additionally, the groom's cake is perfect for someone in the family to take on as a wedding task for a loved one. Recipes abound for simple sheet cakes, and your choice for the ingredients can be simple or elaborate (fruit cakes, for instance, can take a year to create, if truly homemade!). You can even make cakes as crazy as the example shown here, a pair of bongo drums! For some relevant history, Emily Post, in her book of etiquette published in 1937, stated:
In addition to the big regulation wedding cake there are at all weddings of importance near the front door — so that the guests may each take one as they go home — little individual boxes of wedding cake, "black" fruit cake. Each box is made of white moire or gros-grain paper, embossed in silver with the last initial of the groom combined with that of the bride and tied with white satin ribbon. At a site-down breakfast the wedding-cake boxes are sometimes put, on at each place, on the tables, so that each guest may be sure of receiving one, and other "thoughtless" ones prevented from carrying away — sometimes — as many as three or four boxes.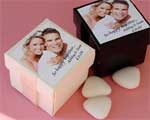 You really don't need to go the route of the "white moire or gros-grain paper, embossed in silver" idea for your cake takeaway boxes, as this is a tradition that has changed over the decades. You can obtain boxes for your guests to carry slices away from the reception one of two ways — either through a purchase of boxes created specifically for cake portions, or by making them yourself. If you plan to make your own cake boxes, the easiest way to do this is to purchase simple boxes in the color scheme of your wedding (or in plain white) and add a charm and a label that indicates your names and date of the wedding.
One idea, provided by a favor box shown here from My Wedding Favors (listed below), shows a colorful box with a photograph of the wedded couple along with type that provides the couple's married names and the wedding date.
If you want to add a charm or graphic to that label, the Wedding Channel has some clues as to what to use with their explanation about cake charms:
The meanings behind cake charms are traditionally: heart for true love, ring for upcoming engagement, clover, shamrock or horseshoe for luck, flower for growing love, wishing well for wishes granted, anchor, airplane or ship's wheel for travel and adventure, highchair or baby carriage for children, rocking chair for long life, coin purse or money bag for good fortune, wedding bells for upcoming marriage, telephone for good news, and picture frame for happy life.
You can purchase boxes or get ideas about how to create a box at sites such as (links lead directly to box pages):
If you want to create takeaway cake boxes yourself, look through the above sites to get some ideas. Then visit a craft store or search online for plain boxes of a specific size. Purchase as many as you think you might need, paint them, decorate them, charm them and label them with type, photographs and graphics to create your own, one-of-a-kind groom's cake takeaway experience for your wedding reception!