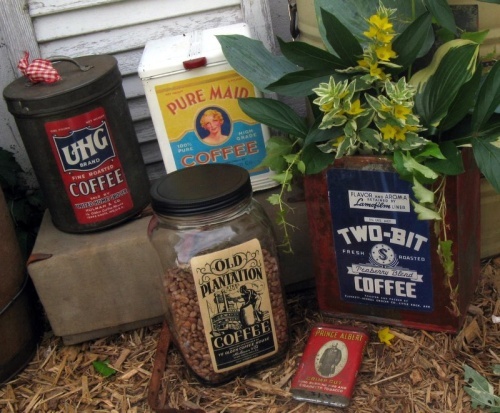 Hello everyone, I'm Mitzi Curi from Mitzi's Collectibles. Russ has invited me back to share more of my stash of vintage ephemera. Today I have some beautiful coffee labels that will dress up containers for your kitchen or make a nice gift for someone. My examples will look a little different because I used images that were the original sizes. Yours will be the size of World Label product number WL-475.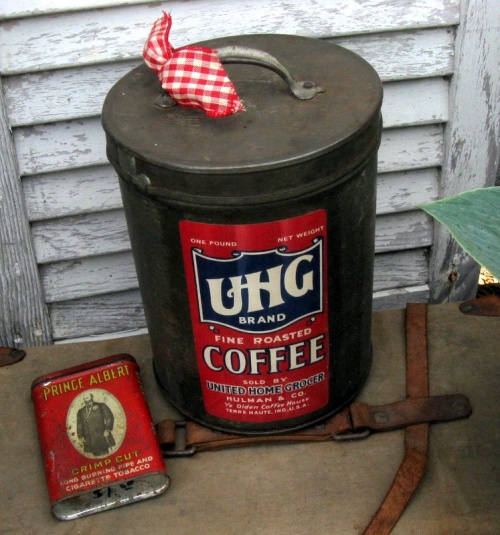 Step one is to find some containers that look worthy of up-cycling. I look around at flea markets and garage sales for tin boxes, my favorite base for this type of project. Glass jars can also be used, or wood canisters. Of course, if you can't find something vintage, a trip to the craft store might be in order.
Prepare the surface by washing the metal or glass and painting the wood if you wish. With new wood, you will want to sand it first, coat it with craft paint and let dry. You'll notice the grain will have raised up in some areas after the first coat of paint. Now you need to sand it a second time, then apply a second coat of paint. Let dry. If you need a third coat (red pigment often needs a third coat), go ahead and do that.
Adhere the label where you would like it, and smooth it out so it attaches firmly.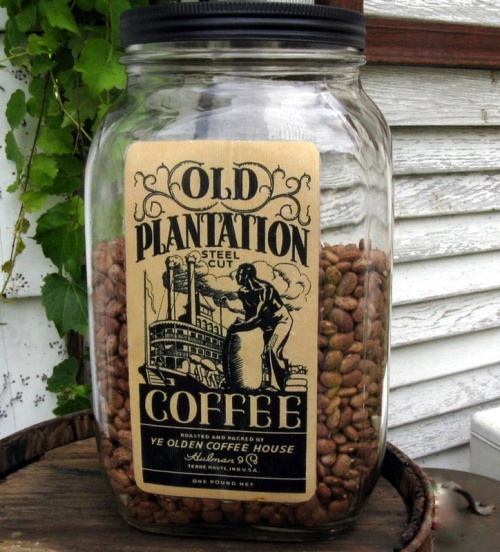 To give a more permanent, semi-waterproof seal, coat the top and the edges of the label with Mod Podge or other decoupage medium. I prefer the matte version, rather than gloss. There is also a satin version that is somewhere in between. Clean the edges with a slightly damp paper towel. If your container is glass, you can clean it further when dry with a razor blade. Carefully scrape around the edges of the label so it looks neat.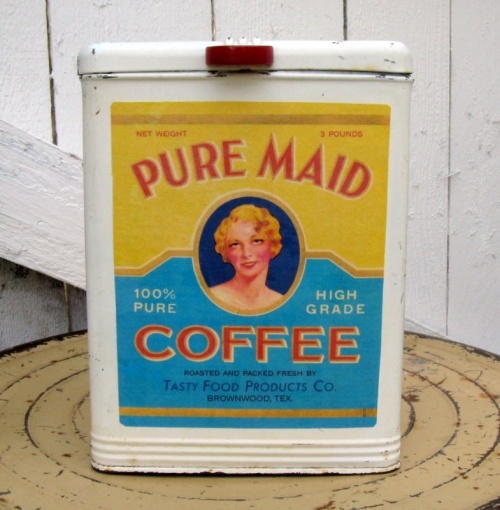 Besides using your container for coffee storage, consider using it as a planter, craft materials storage, or gift "basket". You could fill it with coffee related accoutrement and present it to a most grateful recipient!
My tin example is filled with greenery from my garden. I just put a plastic drinking glass full of water inside to function as a vase and prevent the metal from getting wet.
Coffee labels are in printable and fillable PDF template so you can personalize with your own information. Make sure the highlight field is on.
DOWNLOAD THE PDF TEMPLATE NOW (14mb file)
Next time I visit, I'll have something very different: beautiful vintage feminine perfume and soap package labels!

Get PrintPeelApply Brand Labels from Worldlabel.com and print these vintage coffee labels!