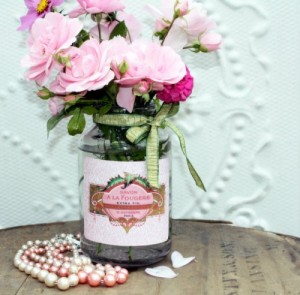 Hello World Label customers!  I'm Mitzi from Mitzi's Miscellany and I'm excited to be a guest here once again to share some of my vintage ephemera images.  Today I have some French labels that were designed for beauty products.  In fact, the word "Savon" means "soap" in French.  You can print these out on World Label, item number WL-525.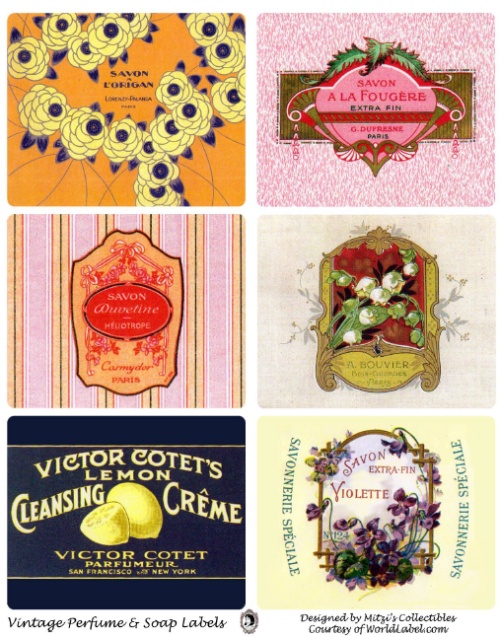 Besides the sheet of printed labels, you will need an assortment of bottles and jars.  Vintage bottles and jars can be found at garage sales, estate sales (Called "tag sales" in the Eastern U.S.), and flea markets.  Of course, if you can't find vintage glass you can take a trip to the dollar store and locate some glass containers that would work.  I think a straight-walled glass hurricane for a pillar candle would be great.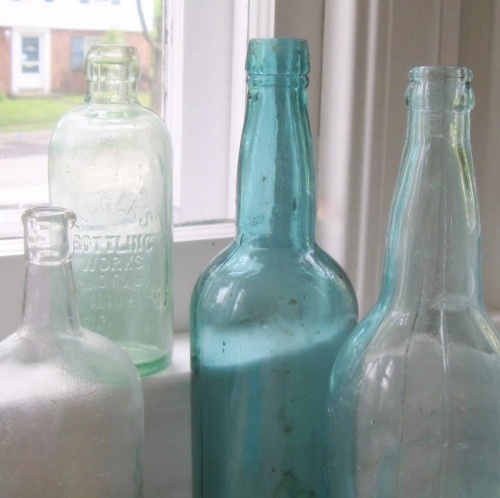 Old medicine bottles and jars are wonderful.  Some of them take on a lavender coloration due to exposure to the sun: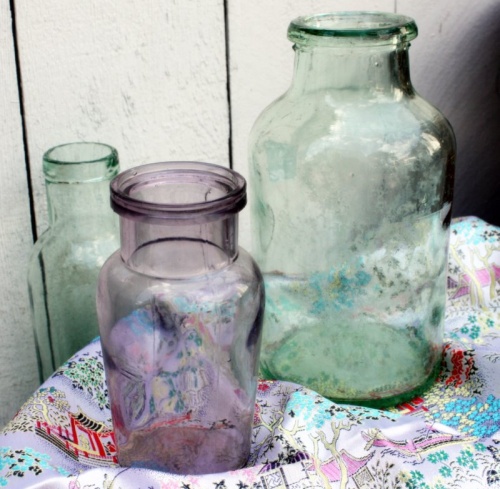 Once you have your bottles selected, simply print out your labels.  If you have an inkjet printer, you might want to seal the surface of your images with spray fixative from a craft store.  Take them outside and spray the surface a couple times, with drying time in between.  Otherwise, the ink might smear if it gets wet.  If you print your labels with a laser printer, they will be colorfast.
Clean your bottles of surface dirt, if they need it.  Now you are ready to apply the label.  Because the jars you find might not all be large enough for the entire label, consider cutting the label to a size that will fit your bottle.  You might even decide to get creative and cut out an oval or other unusual shape from the square label you have printed.
Once you apply your label to the bottle, you can make the image even more permanent by applying a coat of Mod Podge (I like the mat version) right over it with a sponge brush.  Clean the edges with a damp paper towel.  If you wait until the Mod Podge dries, you can still remove glue residue with a razor blade.
You can use your beautiful bottle as a vase, or fill it with colored water like I do.  Here are some I made a while ago, with different labels, but you can get the idea:
I found a bag of corks in assorted sizes at the craft store, and added ribbon to the necks for a final touch of color.  They look very pretty near a light source, such as a window, or on a mirrored dresser tray in the boudoir.
I hope you can create some beautiful bottles yourself.  They are an easy and inexpensive project that adds vintage style to your home décor!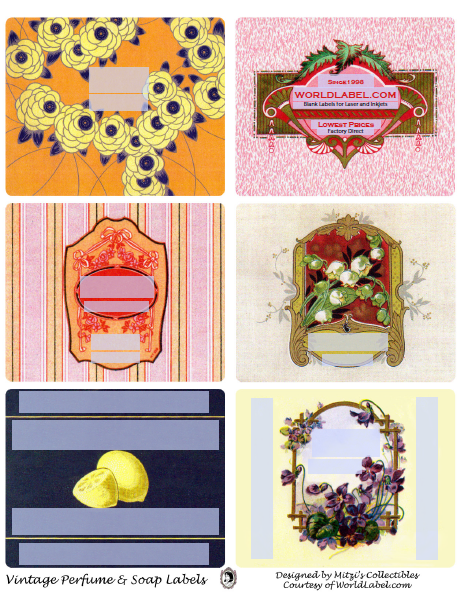 Template with Fillable Fields
DOWNLOAD (PDF) | DOWNLOAD WITH FILLABLE FIELDS (PDF)

Get PrintPeelApply® brand labels for printing  from Worldlabel.com