Your Android device is a versatile tool which can be put to a variety of practical uses, including reading ebooks. But for that you need a decent ebook reading app. While there are several ebook readers available on the Android Market, the Cool Reader and FBReader open source apps are probably the best of the bunch.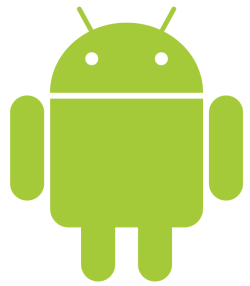 COOL READER
There are several features that make Reader worthy of its name. For starters, Cool Reader really excels at format support: the app can handle all popular ebook and text formats, including EPUB, FB2, TXT, RTF, and HTML. But that's only one of Cool Reader's talents. The app provides all essential features such as table of contents, bookmarks, text search, and hyphenation (it comes with hyphenation dictionaries for several languages). Cool Reader is also blazingly fast, even when dealing with large files, which makes it a perfect tool for reading lengthy and graphics-heavy ebooks. Cool Reader integrates nicely with the Fora Dictionary app, so you can look up definitions and translate words. To look up a word, press the Menubutton, tap on Select text, select the desired word and press the A-Z  button. You can perform other actions on the selected text, too: copy the selection to the clipboard, create a bookmark from the selection, and share the selected snippet using Android's sharing capabilities.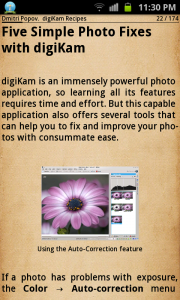 Cool Reader provides basic tools for managing your ebook library. You can quickly view ebooks by author, title, or series, and use the Find Book  feature to search ebooks by specific criteria. While Cool Reader can handle ebooks stored on your Android device, you can download ebooks from several online catalogs like Project Gutenberg, Internet Archive, and Feedbooks directly from within the app.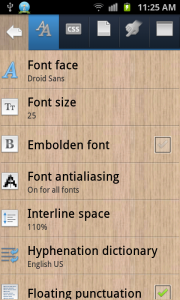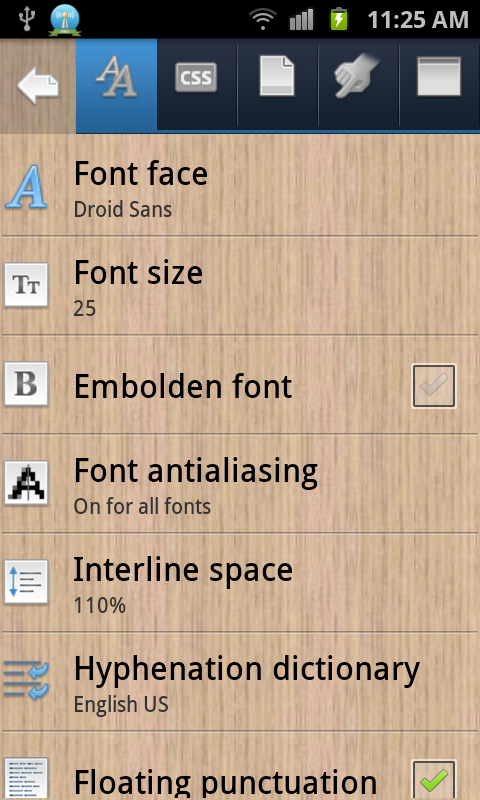 The app's default interface offers a comfortable reading environment, but you can also tweak a wide range of settings from page background and page margins to alternative fonts and external stylesheets. To do this, press the Menu button and tap on Options.  Here you can adjust font settings, formatting options, and the app's behavior. Most of the options available here are self-explanatory, so you shouldn't have problems  figuring them out.
FBREADER
While FBReader supports only the EPUB, OEB, and FictionBook formats, the app does have a few clever tricks up its sleeve. FBReader boasts the Network Library feature which gives you access to the online repositories of free and commercial ebooks. Most notably, FBReader allows you to purchase ebooks from Smashwords, a popular indie ebook publisher. You can add other ebook repositories, too, as long as they provide their catalogs in the OPDS format.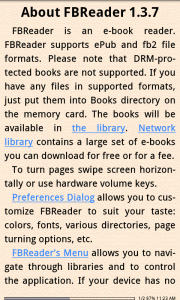 Similar to Cool Reader, FBReader features several tools for keeping tabs on your ebook library. The app allows you to view ebooks by author, title, and tags. You can also mark ebooks as favorites for quick access. As any ebook reader worth its salt, FBReader can handle table of contents and bookmarks. The ebook reader also sports a night mode with reversed text and background colors.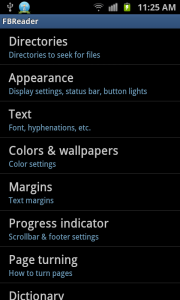 Similar to Cool Reader, FBReader allows you to select text and perform several actions with the selection. The app also integrates with third-party dictionary tools, including ColorDict, Fora Dictionary, FreeDictionary.org, and LEO. You can specify the dictionary in the Settings section. To access it, press the Menu button and tap on More > Settings. Here, you can tweak other options, too.
BY DMITRI POPOV