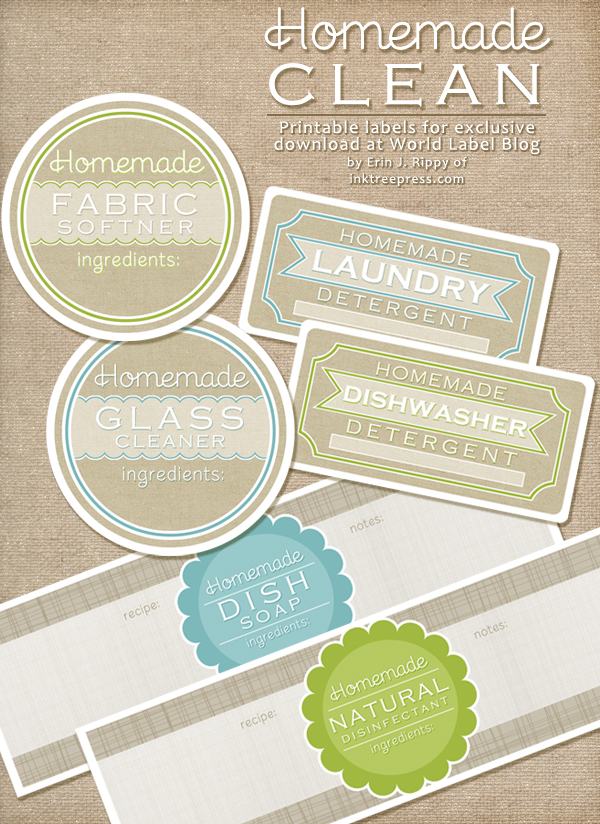 This really cool set of Free Label Printables for your homemade cleaning products are designed by Erin Rippy of InkTree Press In this post we also included a bunch of easy to make homemade cleaner recipes.  And if you planning on reusing old containers, a how to remove the old labels -:)  Templates are ready to print on your laser and inkjet printers. Labels are fillable and editable. DIY and Enjoy making it and labeling it -:)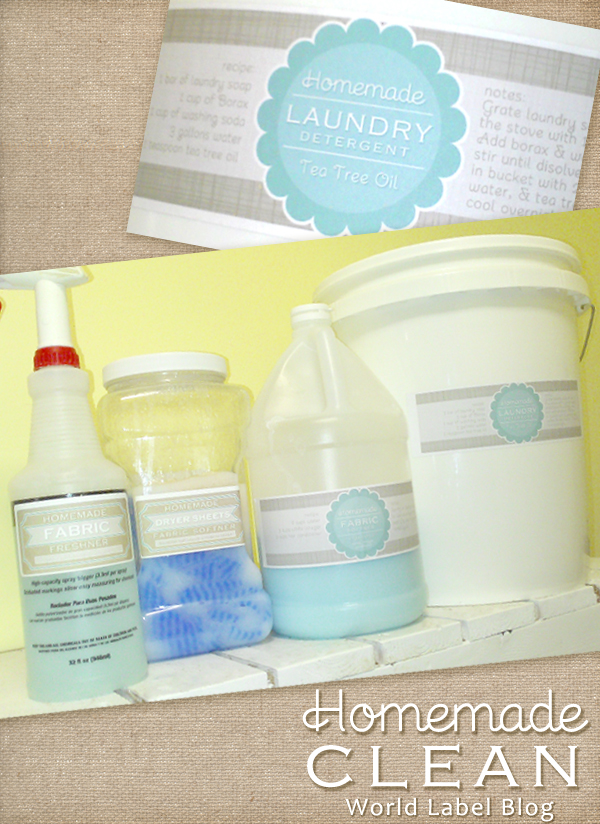 To Print use Worldlabel products:
You can use our one page labels, print and cut.
To change fonts in templates:  type, size or color, (as well as bold, italics, etc.) select Control +E if you're using a PC or Command + E on a Mac. A toolbar will appear giving you additional text properties. Select "More" in the font properties toolbar for paragraph alignment and more.
RECIPES AND TEMPLATES
If you're hankering to learn how to create your own cleaners so you can use our great labels, wait no more. We've gathered some of the best homemade recipes for dishwashing detergent, fabric softeners, spray cleaners (including window cleaners), and laundry detergent so we can share them with you. Although not all recipes are a "one size fits all," these recipes offer a sturdy foundation to begin finding other recipes, or to create your own personal recipes.
Before you begin, think about the containers you'll use to store your handmade cleaning products. You can re-use the plastic containers that once stored your store-bought products, but be sure to clean them thoroughly and remove the labels so you can apply new labels from our resources at WorldLabel! Also, you can purchase glass containers that are more earth-friendly at most hardware stores. Continued after templates….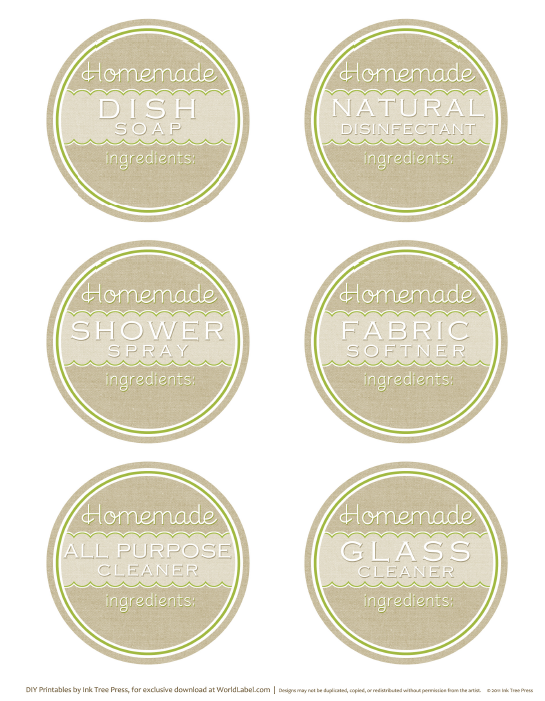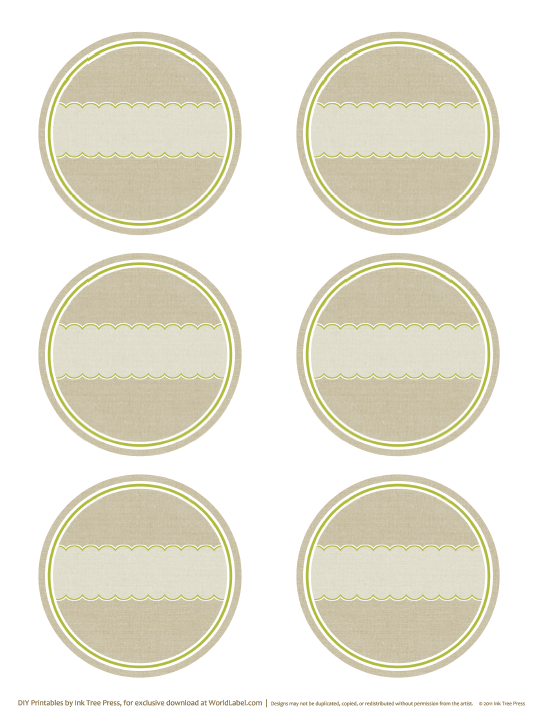 DOWNLOAD AUTOFILL | DOWNLOAD INSERT DIFFERENT INFO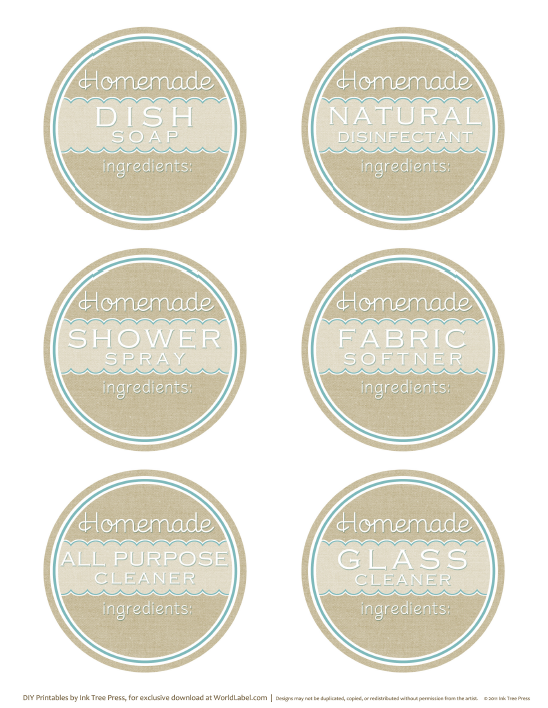 DOWNLOAD AUTOFILL | DOWNLOAD INSERT DIFFERENT INFO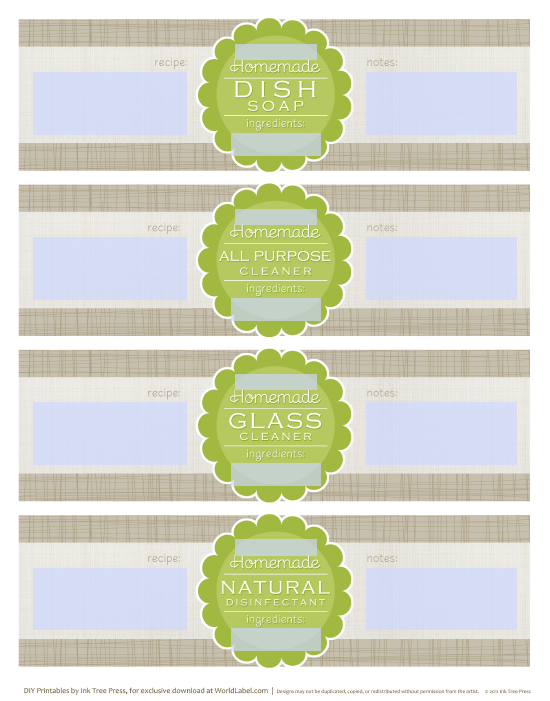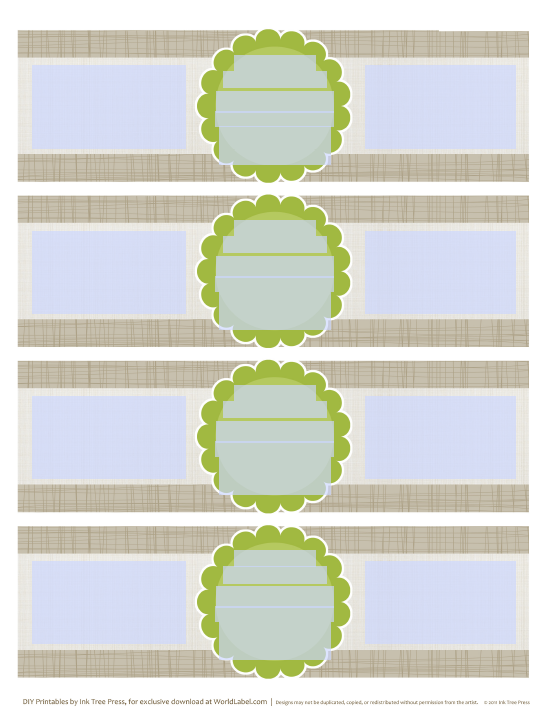 DOWNLOAD AUTOFILL | DOWNLOAD INSERT DIFFERENT INFO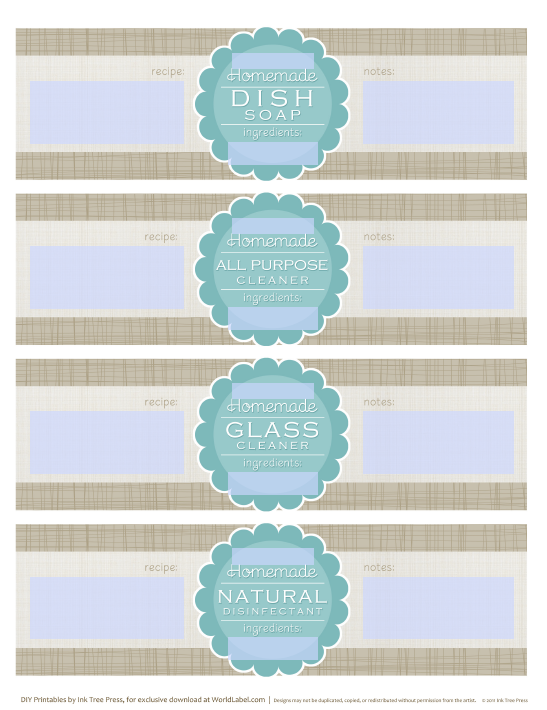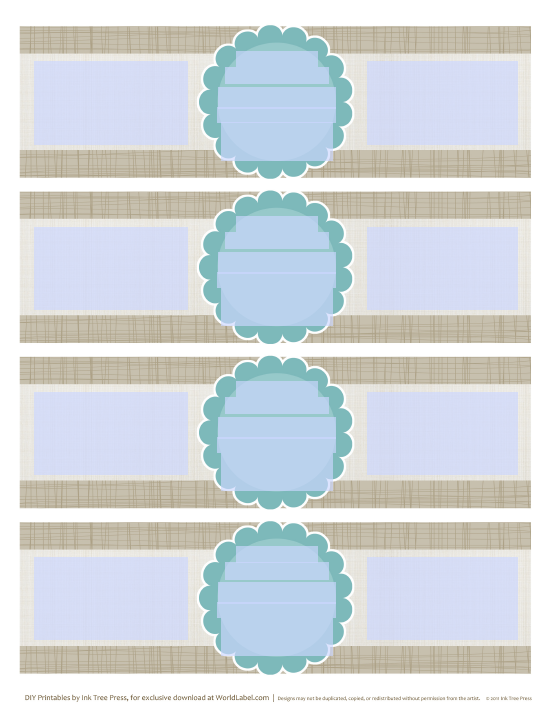 DOWNLOAD AUTOFILL | DOWNLOAD INSERT DIFFERENT INFO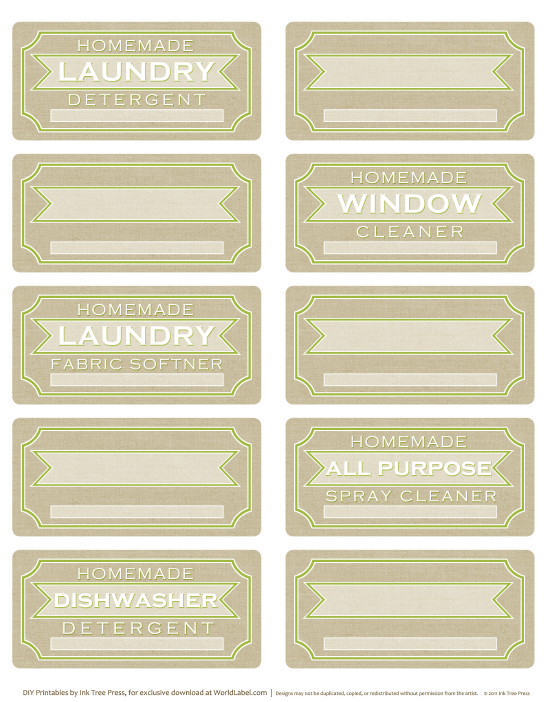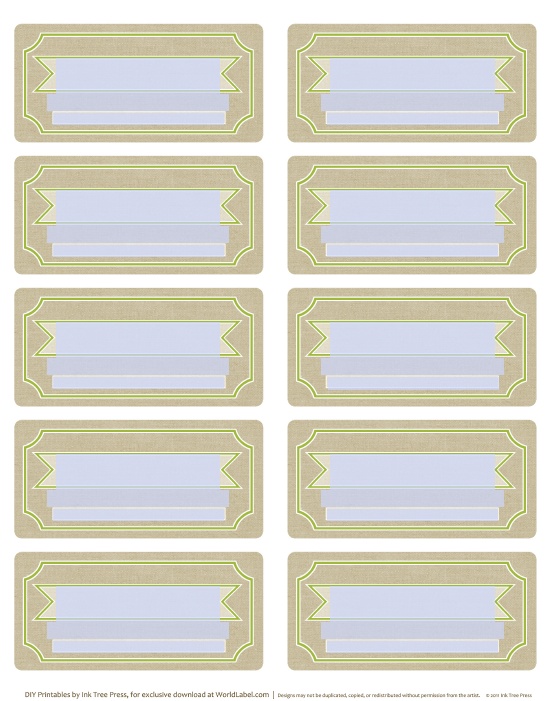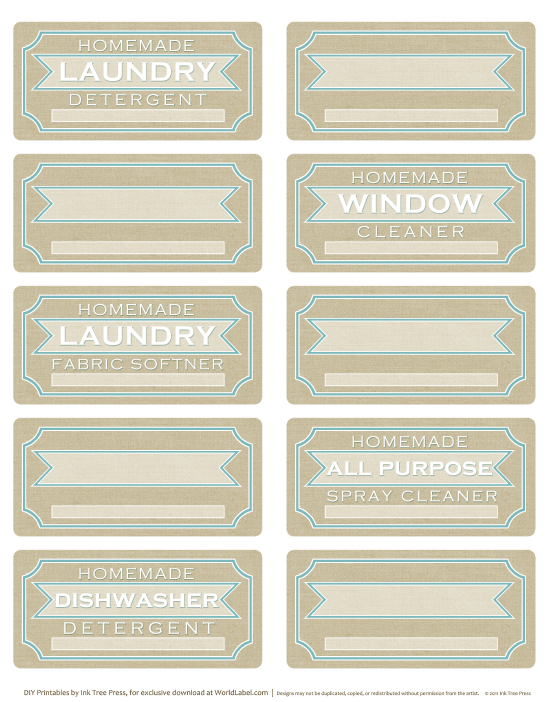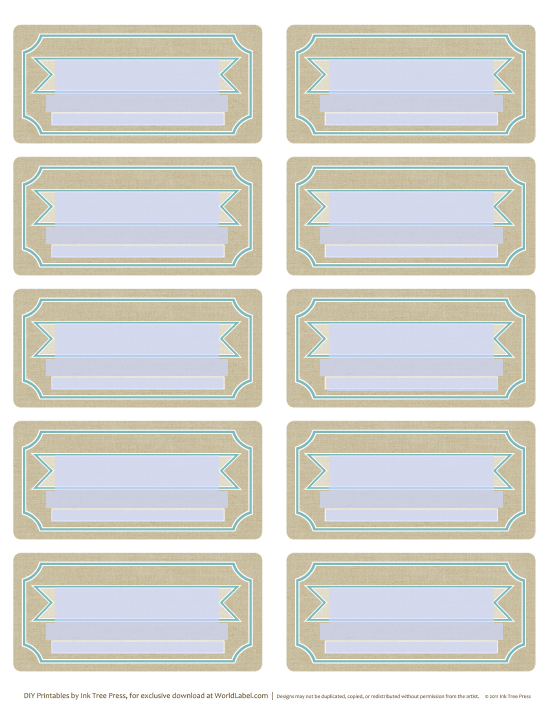 How to Remove Labels
If you plan to reuse cleaning containers, you'll want to remove those original labels so you can use new ones that fit your style. If you are reusing glass bottles, you have some easy options, depending upon the label and glues used on that glass:
1)  Peel as much of the label off as possible. If the label is wrapped in plastic, use a razor blade or knife to cut the plastic and peel as much of the label and plastic off as you can.
2)  Soak the bottle in hot water. If the label comes off easily and doesn't leave a residue, then the glue to hold the label to the jar was water soluble. Easy peasy.
3) If you're left with some residue on the jar, use peanut butter or some other oil to remove that glue. If that glue is particularly stubborn, use steel wool — it won't scratch the glass.
Plastic bottle labels are more difficult to remove, because the glue is more resistant to glass bottle label removing methods. If you need to remove labels from a plastic bottle, try these methods:
1) Try a hair dryer first to remove the label and most of the glue with the label.
2) Apply cooking oil to the rest of the label and the glue and allow it to sit overnight. This application may remove most of the label and its glue. If not, repeat until the glue is dissolved completely.
3) Other products that may work to remove stubborn glue include mineral oil or rubbing alcohol.
Magic Vinegar Recipe
You probably won't be surprised to learn that vinegar is the main ingredient in most homemade cleaning recipes. As an added plus, vinegar contains antibacterial properties. Use a bottle with a spray head and fill it with white vinegar or a mixture of white vinegar and water to accomplish the following tasks:
1) Clean your eyeglasses with white vinegar and a soft, non-scratch cloth.
2) Use a few ounces in the dishwasher rinse cycle to clear away spots on dishes caused by hard water.
3) One cup of water with 1/4 cup of vinegar in the microwave on high for five minutes can loosen any grease or remove odors in your microwave (wipe down the microwave's interior after you "cook" this mixture).
4) Use a vinegar mist in a spray bottle to clean mildew stains. Mix it with equal parts water for light stains.
5) Use full strength white vinegar to clean chrome and stainless steel fixtures around your home. Buff those fixtures dry with a soft cloth.
6) Mix one cup of white vinegar with one gallon of warm water to scrub down that brick fireplace.
7) Spray the outside of your car windows with three parts white vinegar to one part water to keep your windows frost free!
8) Pour 1/2 cup vinegar straight into the fabric softener dispenser in your washing machine, or add vinegar to something similar to a Downy Ball to soften your clothes and to remove soap residue in the machine. Vinegar in your rinse cycle also reduces static in the dryer. Since it softens clothes, you have no need for dryer sheets!
Dishwashing Detergent Recipe
The problem with any dishwashing detergent and hard water is that your dishes are left with a filmy scum. As mentioned above, vinegar can help out by removing some of that scum, but a good homemade dishwashing detergent can help, too (even some "green" dishwashing detergents leave scum!). One of the best recipes we found for this product comes from Louise's Country Closet — the recipe at this link shows how to make dishwasher detergent CUBES that are easy to use!
What you'll need:
– 1 Cup Borax
– 1 Cup Washing Soda
– 1/4 Cup Epson Salt
– Lemon Juice
Follow the handy photographs and descriptions on that page to make at least two dozen cubes that you can store in a tin container. Be sure to read the comments on that page to learn more about other ingredients and tricks to keep your dishes clean without spending a fortune!
Laundry Detergent Recipe
You might be happy to learn that you can use basically the same ingredients from the dishwashing recipe in the laundry detergent recipe, with a few additions:
– 1 (4 lb 12 oz) box of Borax
– 1 (3 lb 7 oz) box of washing soda
– 1 (3 lb) container of OxiClean (optional)
– 2 (14.1 oz) bars of Fels-Naphta soap
– 1 (5 lb) bag of baking soda
– 20 drops of orange essential oil (optional)
Use the directions found at Ask Anna to make the detergent. Note that Anna stores her laundry detergent in a pretty glass jar with a label tied to the lid.
You may wonder if this recipe is good for front-loading machines…and it is! This recipe doesn't contain a sudsing agent, so it's safe for a high-efficiency washer. If you want to use it for your front-loading machine, use about two tablespoons of your homemade recipe mixed with two tablespoons of hot water before adding it to the dispenser.
Again, read the comments after Anna's article to learn more tips about how to use this recipe and for further tips. Don't forget the vinegar in your rinse to soften those clothes!
The only issue we have with this recipe is the OxiClean, as it doesn't contain all natural ingredients. You can leave this ingredient out, especially if you're washing clothes for your babies…or, you can try this recipe for a homemade batch of "OxiClean" that can remove stains. This recipe calls for hot water, hydrogen peroxide and baking soda…and that's it!
Try it! You may learn that your cost of washing clothes is reduced to about a penny per load with this recipe (not including water and electricity, of course).
Other Cleaners and Other Resources
You can scour the web (with your eyes, not with vinegar!) to find more recipes, including the ten best homemade cleaners we found at One Good Thing. We think the toilet cleaner listed in this link rocks!
Don't forget Pinterest — if you need to find a recipe for a homemade cleaner, Pinterest provides plenty of options. Try the following pages to learn more, and collect your favorites on your own Pinterest boards!