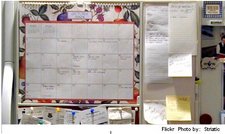 If the front of your refrigerator is your household's central command, you have hi-tech organization alternatives available for active families. Cozi.com is a Web app for families that has been highly reviewed by several sites such as Better Homes and Gardens and Parents magazines.
Completely free and Web-based, Cozi has several features active families can use to stay connected, organized and informed about everyone's activities. The calendar, shopping list and family journal are nice productivity features to help you keep on top of all the details without having to carry your fridge around with you or take sticky notes everywhere.
During the brief sign up process, you input the member names of your household. When you log in, the calendar displays members' names with their own personal color code. The color corresponds to each family member's respective events and appointments. Inputting events is quite easy. You just click on the person's name and the event is created in their color.