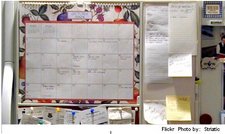 If the front of your refrigerator is your household's central command, you have hi-tech organization alternatives available for active families. Cozi.com is a Web app for families that has been highly reviewed by several sites such as Better Homes and Gardens and Parents magazines.
Completely free and Web-based, Cozi has several features active families can use to stay connected, organized and informed about everyone's activities. The calendar, shopping list and family journal are nice productivity features to help you keep on top of all the details without having to carry your fridge around with you or take sticky notes everywhere.
During the brief sign up process, you input the member names of your household. When you log in, the calendar displays members' names with their own personal color code. The color corresponds to each family member's respective events and appointments. Inputting events is quite easy. You just click on the person's name and the event is created in their color.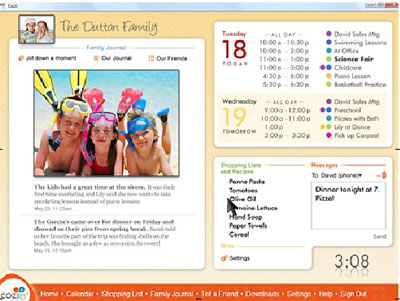 There is a list function so you can keep lists in a centralized location and send them to your phone or PDA. Now you can keep track of your shopping, chores, tasks, etc., in one place. If you'd rather, you can call a toll free Cozi phone number and your list will be read to you.
To keep in touch or update family members with reminders, you can text or email right from the Cozi home page. If you're not in front of your computer, you can use your mobile phone to retrieve information in two ways: either by dialing Cozi's phone number and using the voice menus, or by dialing a short code number and sending a text request.
The Family Journal is basically a blog feature where you can take notes and attach photos. It's a nice way to keep a record of life's hectic activities so everyone can see and comment.
There are a few download tools that are helpful such as the calendar gadget, which works in your Google Desktop Sidebar. It lets you view upcoming family appointments and quickly add new ones right from your desktop. Another option is the Outlook toolbar for those families who use Outlook for their calendar.
While Cozi is ad supported, the interface is clean and uncluttered. It works with Internet Explorer and Mozilla Firefox Web browsers.