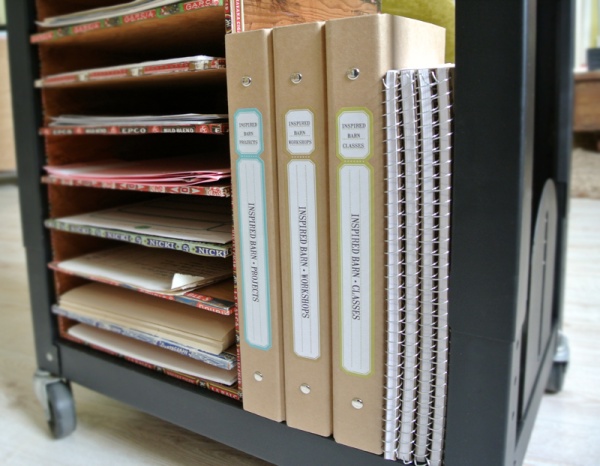 FREE printable Binder Labels in a vintage style by Cathe Holden of JustsomethingImade.com
Whether you're organizing recipes, clippings, business papers, or schoolwork, binders can be the ideal office supply to keep things tidy. In my effort to organize craft classes and workshops, I picked up some binders and spiral notebooks in plain kraft material and designed binder labels in colors to coordinate with my studio and to share with you, courtesy of WorldLabel.com.
In the files here you will find labels for 1″, 1.5″ and 2″ binders, in both plain and with a flower blossom. Print to full sheet label stock, then handwrite contents between the dotted lines. Or follow directions below for typing directly into files. You can also use your image editing software to add text larger than the auto fields allow if your savvy with the software.
To cut out labels, trim along the outer rectangle of labels with a paper cutter, or straight edge and craft knife, then cut notches and corners with scissors. Once the labels are adhered, embellish with stickers, rubber stamps, or leave plain.