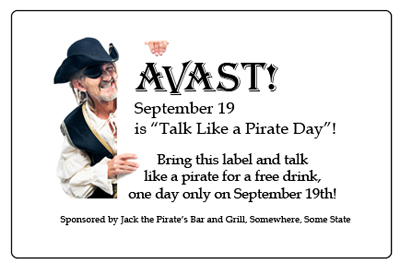 How can you use labels to help promote your business? Outside the labels that you use for mailing, you can create multi-line or single word messages in eye-catching colors that send an offer or idea to clients and customers. But, what do you want these messages to say?
Use our list below for ideas on how to create labels for packages, billing envelopes and other mailed or shipped containers. Each idea can help cement your company with a great idea, reminder or announcement in your customer's thoughts:
Create labels that announce a special event. For instance, in 2009 you can remind people about the inaugaration on January 20, an event that occurs only once every four years.
Use labels to honor a holiday, such as Memorial Day.
Use labels to make clients smile. Depending upon your business, you can mine Brownielocks for ideas. Here are a few thoughts:

If you sell stationery, you might want to remind customers that 8-14 January is Universal Letter Writing Week. Sponsored by the International Society of Friendship and Good Will, this promotion could offer a free pen if the client comes by your store or places an order during that week.
If you sell food items, you might want to remind customers that 26 February is National Chili Day. You can print a chili recipe on a label that can be attached to a package.
If you sell candy, remind your clients that the third week in March is American Chocolate Week. Offer a special during that week and promote it with labels well in advance.
Between 19-25 April 2009 is Cowboy Poetry Week. If you run a country-western store or a tractor supply store, you can create labels that promote this event. Put some poetry on that label (check for copyright first!).
Dentists and orthodontists may know that May is National Smile Month. Offer a discount for clients to come in for a cleaning.
If you run a nursery, you can remind clients that June is National Rose Month. A photo of a rose with your phone number is a great label to attach to a purchase receipt.
July is a great month for restaurants. International Chicken Wing Week occurs between 5-7 July this year, and hot dogs and ice cream enjoy an entire month of observances. Offer free ice cream with a dinner or a side of chicken wings if you can. Announce your plans on labels attached to receipts. This way you can monitor how many customers return for the deal.
If you run an auto parts store, you might know already that August is Motorsports Awareness Month. If you have local races, print the calendar of events on a label and begin to attach that label to receipts or packaging in January.
One of the most famous silly holidays is the International Talk Like a Pirate Day, which occurs on 19 September. There are enough ideas at this site to incorporate with just about any business promotion.
Furniture stores can tie into National Ergonomics Month in October. Use labels to promote ergonomic office chairs or other items that will be on sale throughout the month. Advertise well in advance on receipts and on packages or billing envelopes.
The week of 9-15 November is National Young Reader's Week. Bookstores and libraries can use this week to advantage if they team with local schools to recognize the joys and benefits of reading. Labels on free book covers or bookmarks can help to announce your participation.
Any business can participate in the "Recipe Greetings for the Holidays" week, which occurs during the first week in December. Use larger labels to promote a recipe and a greeting that you attach to packages, receipts or other correspondence. Make this one a yearly tradition, with different recipes each month!
The label shown above was created using Worldlabel's WL-OL575 Shipping and Mailing label that measures 3.75″ x 2.438″ and comes eight labels per sheet. Photo was downloaded from iStock.