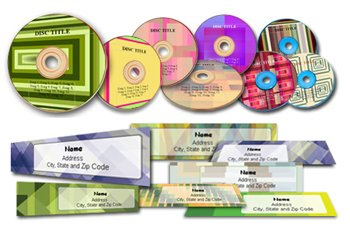 We love open source, so any project that provides users with the ability to use open source products really rocks our world. This time, we've teamed up with ColourLovers.com (Color Lovers) to create some wild labels that will catch anyone's attention! The colors chosen for each CD and address label are ones that are supplied by various palettes cataloged at Color Lovers.
To view the templates, use any of the following office suites to open the files: OpenOffice.org, Koffice, StarOffice, IBM Lotus Symphony, or any other office suite supporting the OpenDocument format. For Microsoft Office users, an ODF plugin is required and can be downloaded for free Sun ODF plugin for MS Office.
After you open the template, click at the beginning of text and type your personal information. You can easily change the font, font size, and color by selecting the text and using the lists on the menu bar above the labels. Other options include resizing the text box, moving it to another position on the label, or adding another text box for more information. To make these changes, just click on the box around the text and drag the box corner to resize or drag the box itself to move. To add other options like adding a border or background color, double-click the box around the text and make changes in the window that appears.
Start personalizing your own labels, download an Openoffice.org Writer OpenDocument Format template for free, personalize the information and make your own labels. Feel free to remix, reuse, share, as all labels are released under a Creative Commons license.
Additionally, if you want to share your label designs with us, we would be happy to display them! Just submit your graphics to Worldlabel @ gmail.com (remove spaces). We will format them into templates and publish your designs in the exhibit.
Visit the Personalized Label exhibition
(Update) From the ColourLovers.com Blog: The folks over at Worldlabel.com had an idea to create and easy way for people to create thier own CD and Address labels using palettes geometric patterns and color palettes, and asked the members here at COLOURlovers to contribute designs for and exhibition. Read the rest here: http://www.colourlovers.com/blog/2008/12/31/colorful-label-template-exhibition-at-worldlabelcom/.