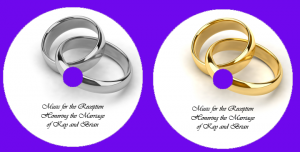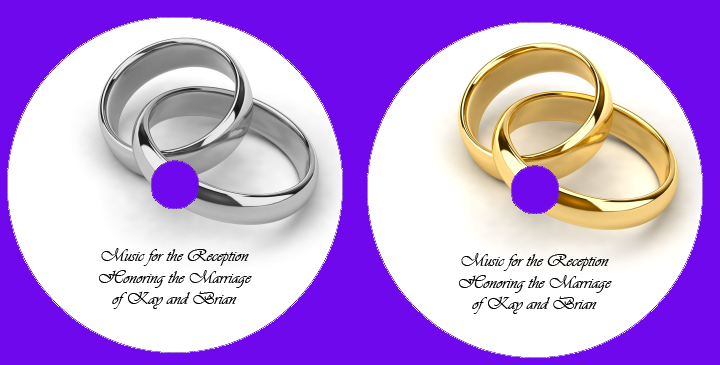 In the previous blog entry, you may have learned about various options available for your wedding music and how to burn that music to your CD. Now that your CD is ready to play, you might want to spice it up with some graphics. This tutorial provides a number of options for your creative abilities, along with resources for free artwork and graphics.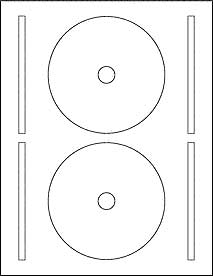 The template that you'll want to use for your CD is the WL-5625 Full Face CD Label, shown here. When you scroll down that label page, you'll learn that you have various options in the download for the free template. You have choices in:
While you can open and work with these templates in any given program, I chose the PDF file to open in PhotoShop. Don't worry if you do not have Photoshop, as you can use Gimp. Gimp is a free download art and graphics program that allows users almost as much freedom as Photoshop.
If you feel you are not artsy in any way, you can enlist a friend to help you design your CD. But, it always helps to pave the way for the progress of your CD so your friend (or you) is not overwhelmed with choices and decisions. In other words, you need to pick out the artwork you want to use, and you need to decide on the colors to use as well.
Designing Your CD
First, your CD is for you and for your friends. You are not selling it, as that would violate copyright laws for most music as well as for most artwork. This is a memento, so you want it to reflect your time in space with this wedding.
Use colors that you are using in the wedding. If your colors are purple and yellow, then look for designs that contain purple and yellow. That said, some designs lend themselves to alteration, and you or your friend can alter colors in the art program to reflect the colors in your wedding.
Some resources for free wedding-related artwork include:
Another resource, which is not free but just costs the price of a cup of coffee, is iStockphoto. You will need to register to use this site, but it may be worth your effort. Choose among hundreds of photographs, artwork and graphics for that CD label and download it to your hard drive. You can use other stock photography sites as well, but I've learned that iStock carries a wide variety and the prices are minimal compared to other stock photo sites.
Paying a small price for an image that can be replicated might be up your alley, especially if you want a professional look. The issue with the free image sites is that their images are small, and when you enlarge them to fit on the CD label, those images may need some work to make them look good again. Using a larger image that can be used without enlarging it is the way to go. In fact, most images look better when they are reduced a touch.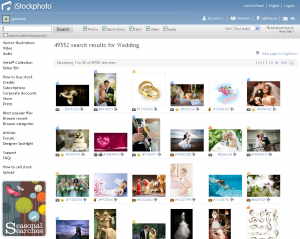 The image above shows the number of options at your fingertips at iStock. Once you decide on an image, you have a choice of the size you want to download to use. While it would benefit you to download the largest image, the prices may become prohibitive to you. The size of the CD label is a little under 5″, so choose an image that is about the same size. In the case of iStock, which measures images in pixels, that size might be the "small," which averages around 650-693 pixels at least on one side. You want to shoot for a somewhat square image with that size.
I chose the wedding rings to work with, and the download the small size at 693×693 pixels. After loading it into the PDF template, I add a few lines to show that the music on this CD is the music for Kay and Brian's reception. Nothing fancy, just a few lines that show which music is on this CD: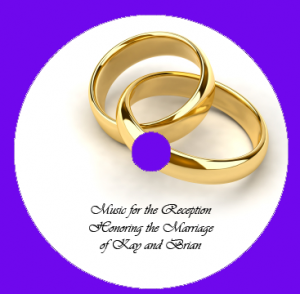 Uh-oh. I can hear it now. Kay is moaning, because their wedding rings are silver. No worries. If you are working in Photoshop or Gimp, simply turn down the saturation, and that gold will turn to silver: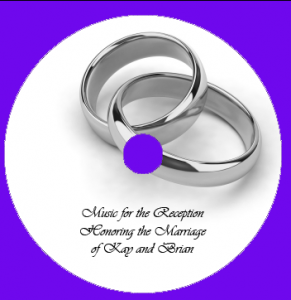 This is a simple, easy-to-create and (almost) free option to creating a label for your wedding music CD. Note that the purple color is there simply to help the white CD stand out. You can alter the background colors to the CD and use other images, too. But, why complicate the artwork when you have so many other things to do? Simple, strong images that help the type stand out also helps the legibility of that type, making it easy to read.
Your family, friends and guests will cherish this gift from you, a gift filled with love and romantic music.