Are you having a problem thinking how you will design your next label.  Are you keep coming up blank. Do you feel stymied when it comes to using labels? Do you think labels are dull? Do you have piles of blank labels gathering dust in that bottom drawer? Have you looked all over the net for label design ideas and not sure what is right? You're in the right place, then. We're here to help you overcome your "labelphobia" so that you can realize your organizational and productive potential. Labels can simplify your life if you know how and when to use them and find great design for your needs. They also can make your life more colorful and exciting!
So, we welcome you to Worldlabel.com  a company that makes Blank Labels for laser and inkjet printeres and has a great blog full of free label printables to print on those blank labels. Our company has been in business for a decade, and we offer labels, label designs and design ideas to people the world over. Now, we want to expand on our services to provide users with even more resources. No matter whether you're a work-at-home mom, a CEO, an artist or a non-creative type – we're here to help you make the most of your talents and time with our ideas, tips, tricks, hacks and more.
We'll provide you with news and information about topics such as Open Source tools, productivity and organizational tricks, "how-to" articles, reviews and downloads. We're here to make your life easier. We're here to have fun! But even better is our Pinterest boards with thousands of followers. We pinning on the best free printable labels and templates on the web from Wedding Labels, Kitchen and Pantry Labels, even Red Bordered Labels, Canning Labels and lots and lots more: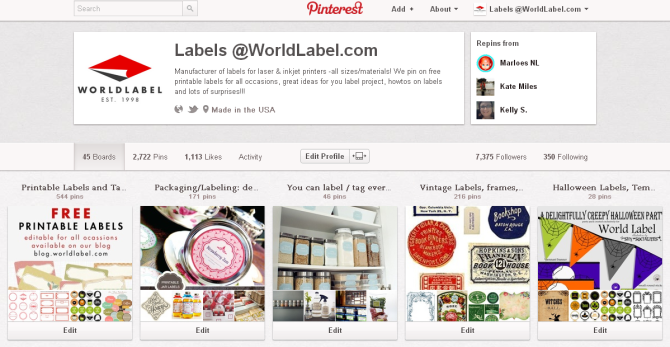 Start browsing our blog for awesome label designs and free printables and visit our Pinterest Boards and find a wealth of free printable labels, label design ideas, how to label things and lots more…….. take out that pack of blank labels from your draw, or  print on label sizes you can find everywhere -;) and you will start creating great looking labels for all your products and DIY projects.