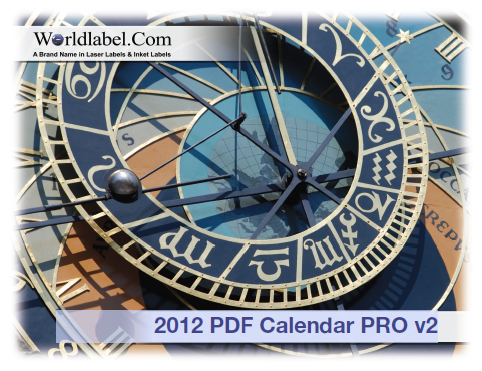 New and improved with new features!
Once again, like last year, we had a several request from our viewers for a fillable 2012 calendar, so here it is! Start organizing for next year now.
Check out our free, fillable and printable PDF document template 2012 calendar with notepad. It has the features you need to keep your life on track on calender pages

 that are a fully printable 8.5″ x 11″. Please also check out our PDFplannerPRO, a fillable printable planner, organizer, diary and more! If you need our 2009 Calender,  2010 Calendar, and the 2011 Calendar  go for those items as well!
Features at a glance:
Customize with your own logo and images
Input your data and save or print
Print the complete calendar or specific pages
Notepad for each month
PDF format allows for easy sharing and opening
Change font type, size and colors
Insert images into each 'day cell"
Instructions For Inputting Your Data:
Click on month in Contents menu within the calendar to jump to desired page.
Insert your own image:
Click on the main image and you will be prompted to choose a an image. Click on the WorldLabel logo and you also will be prompted to choose an image. Make sure you follow the image sizes listed in the instructions on the calendar.
By placing your image on any "white" area in each Day Cell, then left click, you can choose an image but must be 351 x 324 pixels for months with 5 rows and 351 x 270 pixels for months with 6 rows.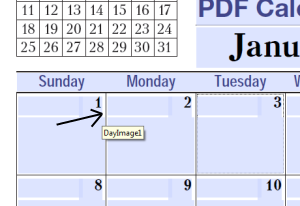 Inserted image in the "Day Cell"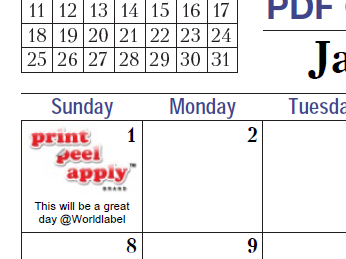 "Day Cell" with image and text inserted
Place cursor on Worldlabel.com logo and click; a Select Image File window will pop up; choose the desired file from your computer. Images must be about 4 inches wide x .75 inches. Once you choose a file, it will automatically populate the template.
Move from month to month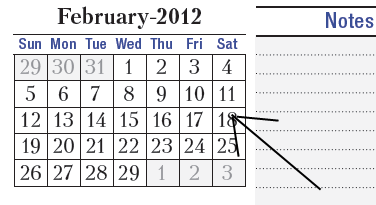 Place your cursor on the small calendar, either on the top left or top right and click. this will move your to the next month or previous month
More Tools: – Fonts: If you want to change the font type, size or color, (as well as bold, italics, etc.) select Control +E if you're using a PC or Apple + E on a Mac. A toolbar will appear giving you additional text properties. Select "More" in the font properties toolbar for paragraph alignment and more.
Select Control + 5 to reduce/increase line weights.
Specs:
PDFcalendarPRO Version 2.0 is cross-platform and application-independent. It will work on Mac OSX, Linux, Windows, Solaris and other operating systems. There can be compatibility issues between different PDF Readers. For optimum performance and full use of all functions, we recommend you download the free Adobe PDF Reader version 9.
Some Screen Shots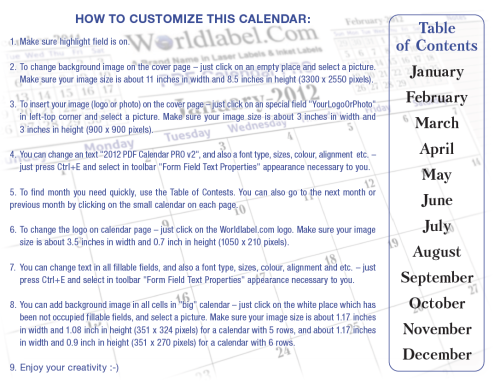 Instructions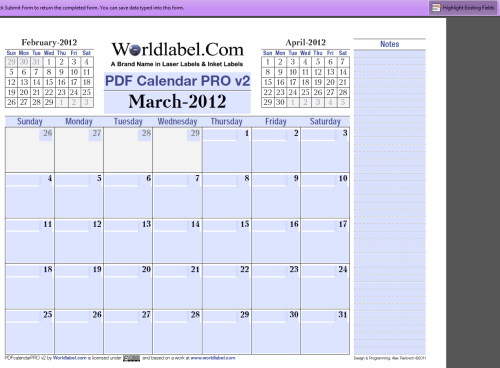 Calendar with Highlights on